Consider 10 minutes plus and minus in each prediction, and act accordingly.
Ganesha advises you to compare every prediction with the prediction of the previous time slot.
All the hype and hoopla related to the Union Budget 2012-2012 must have eased off by now. And by now, you also must have observed that all the Budget-related predictions that Ganesha made in His article have turned out to be correct.
Once again, all the predictions related to the zero weightage day i.e., 16/03/2012 and about the day before a zero weightage day i.e., 15/-03/2012 have turned out to be spot on. Ganesha is happy and proud about this fact that He yet again managed to caution you in advance.
Refer back to the Yearly-view given in the Market Predictions – 2012 book. Note that the four time slots mentioned in this yearly view are already over. Ganesha now leaves it up to you to see and decide for yourself as to how many of these predictions have hit the target, and how many of them have missed it.
You will have to wait till Nifty recovers from a dry patch.
Ganesha is not happy with the movements of Nifty. Market is likely to be unpredictable during the time slot between 9:15 to 10:10.
From 10:10 to 11:00, expect a jump on the up-side.
Nifty may go down during 11:00 to 12:20. On the whole, it is likely to be a dull time slot.
From 12:20 to 13:00, Nifty may struggle to go up.
From 13:00 to 14:00, the stock market is likely to remain down.
From 14:00 to 15:30, Nifty is likely to be towards the up-side.
For detailed personalised prediction email us on stockmarket@ganeshaspeaks.com or call us on +91-9909941816
Gujarati

Hindi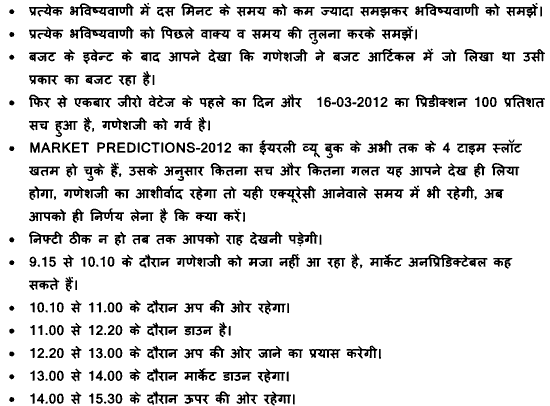 For further details, please contact customer care.
Telephone: 079 65221416
Mobile: +91 – 9909941816
Email: stockmarket@ganeshaspeaks.com