Consider 10 minutes plus and minus in each prediction, and act accordingly.
Ganesha advises you to compare every prediction with the prediction of the previous time slot.
Please keep in mind that all the predictions mentioned in this blog are for intraday and are written one in week in advance.
Today is the last day for F&O.
The month of March is an eventful month. The President's speech is on 12-03-2012.
Railway Budget is going to be presented on 14-03-2012.
Economy Survey Report is going to be released on 15-03-2012.
16-03-2012 is a Friday and Union Budget is going to be presented on the last day of the week. Therefore, Ganesha advises you to stay away from budget influence and political stocks. Don't proceed ahead without considering the fundamentals, advises Ganesha.
It is likely to be a good day, says Ganesha. Arbitrageur and intraday may make you earn substantial amount of money.
Ganesha is disappointed about the fact that in spite of providing you with such highly accurate predictions and clear view, many of you don't appreciate His efforts.
Be prepared to play a risky game today. But neither profit not loss can be guaranteed today, says Ganesha. Let the first fifteen minutes pass.
Ganesha strongly advises you to stay alert during 14:53 to 15:30. No matter how intelligent you are, there are strong chances that you will get stuck.
For detailed personalised prediction email us on stockmarket@ganeshaspeaks.com or call us on +91-9909941816

Gujarati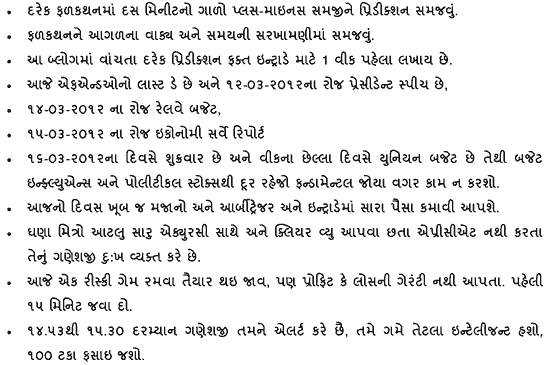 Hindi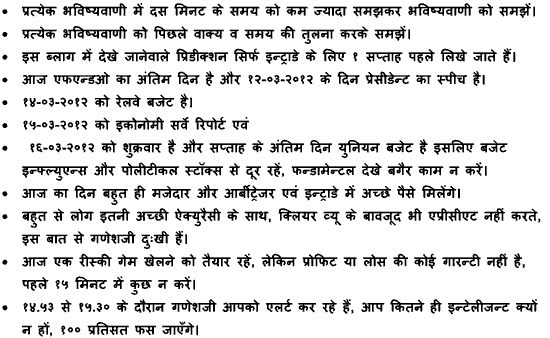 For further details, please contact customer care.
Telephone: 079 65221416
Mobile: +91 – 9909941816
Email: stockmarket@ganeshaspeaks.com