Consider 10 minutes plus and minus in each prediction, and act accordingly.
Ganesha advises you to compare every prediction with the prediction of the previous time slot.
All the hype and hoopla related to the Union Budget 2012-2012 must have eased off by now. And by now, you also must have observed that all the Budget-related predictions that Ganesha made in His article have turned out to be correct.
Once again, all the predictions related to the zero weightage day i.e., 16/03/2012 and about the day before a zero weightage day i.e., 15/-03/2012 have turned out to be spot on. Ganesha is happy and proud about this fact that He yet again managed to caution you in advance.
Refer back to the Yearly-view given in the Market Predictions – 2012 book. Note that the four time slots mentioned in this yearly view are already over. Ganesha now leaves it up to you to see and decide for yourself as to how many of these predictions have hit the target, and how many of them have missed it.
Once again, Ganesha wants you to remember His initial advice and not trust the opening indices.
From 9:15, cautiously and slowly buy some stocks, and at around 11:00, make an exit. However, don't blame Ganesha even if you make negligible profits.
Avoid aggressive trading during 11:00 to 13:50. Trade, ONLY if you have the capacity to receive the actual delivery of the stocks.
From 13:50 to 14:10, Nifty is likely to experience some movement around an important level on the soft side.
Consider a small time slot between 14:10 to14:55. And, take an exit during this time. However, this entire set up looks set to be very risky, cautions Ganesha. Therefore, Ganesha leaves the final decision on you.
From 14:55, the settlement phase is likely to start. However, you may not earn much profit, foretells Ganesha.
For detailed personalised prediction email us on stockmarket@ganeshaspeaks.com or call us on +91-9909941816
Gujarati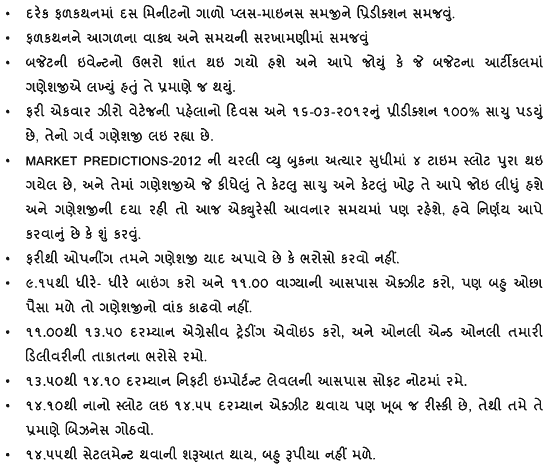 Hindi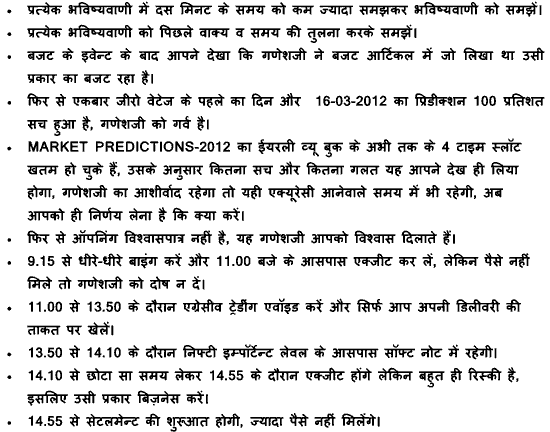 For further details, please contact customer care.
Telephone: 079 65221416
Mobile: +91 – 9909941816
Email: stockmarket@ganeshaspeaks.com