The planetary positions are going to be like this today: Sun is in the Moon sign Aries and in Ashwini constellation. Moon is in Pisces and in Revati constellation. Mars is in Leo and in Magha constellation. Mercury is in Pisces and in Uttarbhadrapda constellation. Jupiter is in Aries and in Bharini constellation. Venus is in Taurus and in Rohini constellation. Saturn is in Chitra constellation and is retrograde in Libra. Rahu is in Scorpio and in Anuradha constellation. Ketu is Taurus and in Rohini constellation.
Consider 10 minutes plus and minus in each prediction, and act accordingly.
Ganesha advises you to compare every prediction with the prediction of the previous time slot.
The daily weightage on 17th, 19th and 20th April is going to be zero. The stock market is likely to be so dull and lacklustre on these aforementioned dates that taking a mini-vacation, and not doing anything would turn out to be a more profitable option than taking any risk, suggests Ganesha.
The weightage for today is zero, therefore Nifty is likely to be direction-less and create a highly confusing pattern. Now, you have to take a decision whether you want to do jobbing or take a break for the day, says Ganesha.
From opening to next 3 hours, the weighage is going to be zero. Hence, the time slot is suitable only for gambling.
From 12:15 to 14:05, the market breadth at Nifty is likely to be positive.
Nifty may experience selling pressure during 14:05 to 14:30, foretells Ganesha.
During the last one hour, the number of advance stock is likely to be more at Nifty.
For detailed personalised prediction email us on stockmarket@ganeshaspeaks.com or call us on +91-9909941816
Gujarati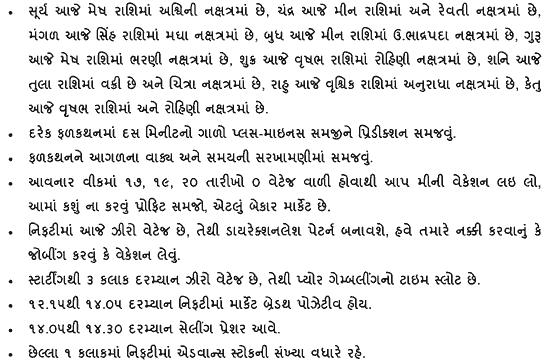 Hindi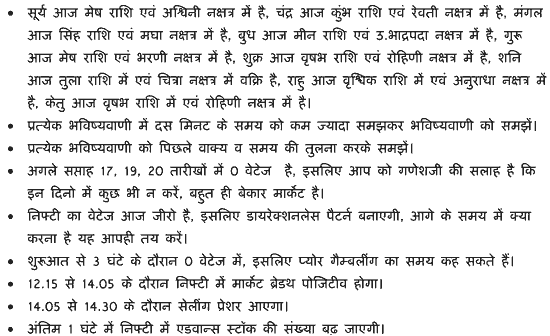 For further details, please contact customer care.
Telephone: 079 65221416
Mobile: +91 – 9909941816
Email: stockmarket@ganeshaspeaks.com.