Consider 10 minutes plus and minus in each prediction, and act accordingly.
Ganesha advises you to compare every prediction with the prediction of the previous time slot.
With this blog, Ganesha also gives you a detailed article about the upcoming Union Budget.
Today, the Union Budget is going to be presented.
You may read the Union Budget related article here on this blog. You shall also be able to download the PDF file for the same.
The weightage for today is zero. Therefore, before predicting anything about today, Ganesha advises you to go through the history of a zero weightage period.
You have no option but to do hedging, says Ganesha.
Today, as per the Horoscope, the Lord of stock market's House, Sun, is in the 12th House and the Lord of the 8th House, Mars, is in the House of stock market. Thus, this House is getting disturbed. Therefore, instead of hoping high, follow a stop loss policy and do intraday. Avoid taking any major positions, advises Ganesha.
Today, consider no loss to be equivalent to profit, as news-based or event-based trading is not advisable. Today, it's going to be the day for mutual funds, big traders and FIIs and the common man is likely to get stuck because of all of them.
For detailed personalised prediction email us on stockmarket@ganeshaspeaks.com or call us on +91-9909941816

Gujarati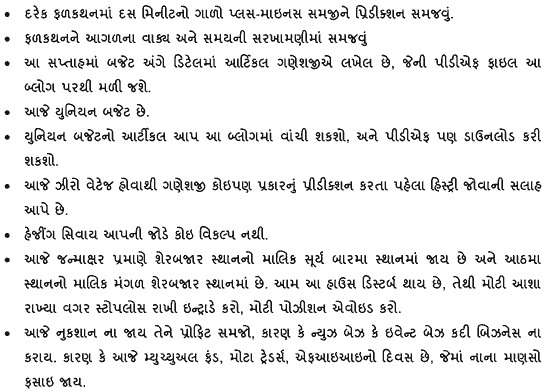 Hindi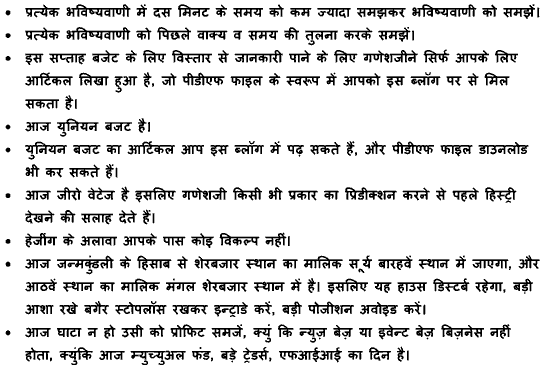 For further details, please contact customer care.
Telephone: 079 65221416
Mobile: +91 – 9909941816
Email: stockmarket@ganeshaspeaks.com