Today, the planetary positions are going to be like this: Sun is in the Moon sign Aries and in Ashwini constellation. Moon is in Aquarius and in Dhanishtha constellation. Mars is in Leo and in Magha constellation. Mercury is in Pisces and in Uttarbhadrapda constellation. Jupiter is in Aries and in Bharini constellation. Venus is in Taurus and in Rohini constellation. Saturn is in Chitra constellation and is retrograde in Libra. Rahu is in Scorpio and in Anuradha constellation. Ketu is Taurus and in Rohini constellation.

Consider 10 minutes plus and minus in each prediction, and act accordingly.

Ganesha advises you to compare every prediction with the prediction of the previous time slot.

The daily weightage on 17th, 19th and 20th April is going to be zero. The stock market is likely to be so dull and lacklustre on these aforementioned dates that taking a mini-vacation, and not doing anything would turn out to be a more profitable option than taking any risk, suggests Ganesha.

From opening till 12:30, there may be no clear trend at Nifty, foresees Ganesha. Buy and sell at Nifty within a 15 to 20 points range, and keep booking profit.

Nifty may go up during the period between 12:30 to 13:55.

There may be a correction during initial period after 13:55. Post that correction, Nifty may experience a gradual buying trend.

Tomorrow, Moon is going to be in Shatataraka constellation, and therefore, it is going to be a very crucial day. Take all the precautionary steps and be alert! Anything can happen, warns Ganesha.

The daily weightage is going to be zero for 17th, 19th, and 20th April. Now, it's up to you to decide and take your next step accordingly, as Ganesha has already myriad times told you the history of a zero weightage period.
For detailed personalised prediction email us on stockmarket@ganeshaspeaks.com or call us on +91-9909941816
Gujarati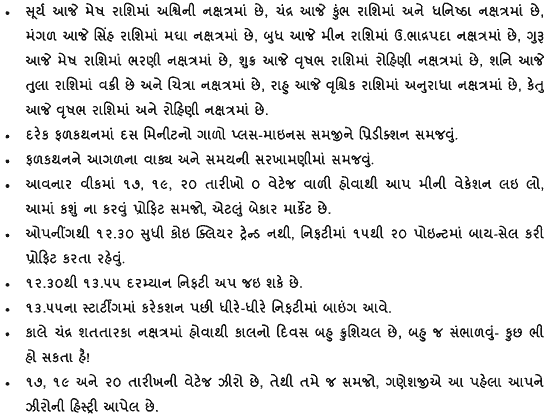 Hindi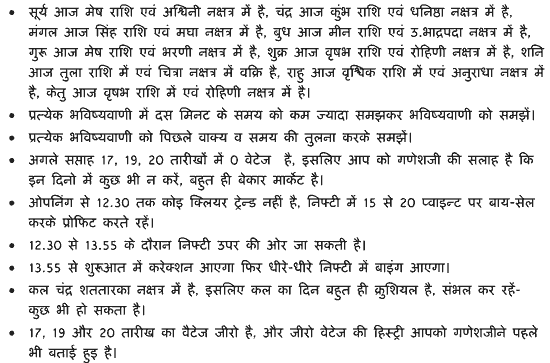 For further details, please contact customer care.
Telephone: 079 65221416
Mobile: +91 – 9909941816
Email: stockmarket@ganeshaspeaks.com