Today Sun is in the zodiac sign Taurus and in Krutika constellation. While Moon is posited in the zodiac sign Aquarius in Purva Bhadrapada Nakshatra. Mars is in the sign of Leo in Purva Falguni constellation, while Mercury is posited in Aries in Bharini Nakshatra. Jupiter is posited in the zodiac sign Aries and in Krutika constellation. Venus is in Taurus in Mrigashirsh Nakshatra. Saturn is retrograde in Libra and is in Chitra constellation. Rahu is posited in the zodiac sign Scorpio and is in Anuradha Nakshatra. Ketu is in Taurus and in Rohini constellation.
Consider 10 minutes plus and minus for each prediction, and act accordingly.
Ganesha also advises you to compare every prediction with the prediction of the previous time slot.
In the book, Market Predictions 2012, Ganesha had mentioned in the paras for the 7th time slot that you may be left wondering if staying in Stock Market is a good idea or not. You may have noticed that this was the same situation that occurred last week (19-04-2012). Keep referring to the book to stay ahead of time.
Beware that this is not the lowest trend as yet, as predicted by Ganesha. You will have to be careful and vigilant all along.
The yearly high touch, as predicted by Ganesha, has already happened on 17-02-2012. This can also be referred from the Yearly file.
From 18-05-2012 onwards, the mighty Jupiter is entering in the zodiac sign Taurus, and it shall remain posited there till 31-05-2012.
If you refer to the already sent monthly file, you'll see that today's day has already been deemed as an unpredictable day, reminds Ganesha.
The results of the aforementioned Jupiter transit shall be myriad. Let's understand in short how the transit shall fare for various Moon Signs (till 31-05-2012)
The aforementioned predictions are for the period between 18-05-2012 to 31-05-2013. However, with Jupiter, Ketu too shall affect this transit. And, this may reduce the good effects of this transit.
Gemini: Expenses may increase, and you may see yourself traveling aplenty for work related purposes. A surge in spirituality is also foreseen.
Cancer: Expect happy occasions at home – it may be an occasion to worship or a celebration, says Ganesha. You may also be in for some serious luck, what with new gains, marriage, new romances et al on the cards. It's a benign time for singles and ones looking to solve issues related to their kids.
Leo: Promotions, recognition and perks await you at the job front. You may also expect a boost in your income or business, assures Ganesha. Work related to government may get completed with happy results and your social/ public image may get a boost.
For detailed personalised prediction email us on stockmarket@ganeshaspeaks.com or call us on +91-9909941816


Gujarati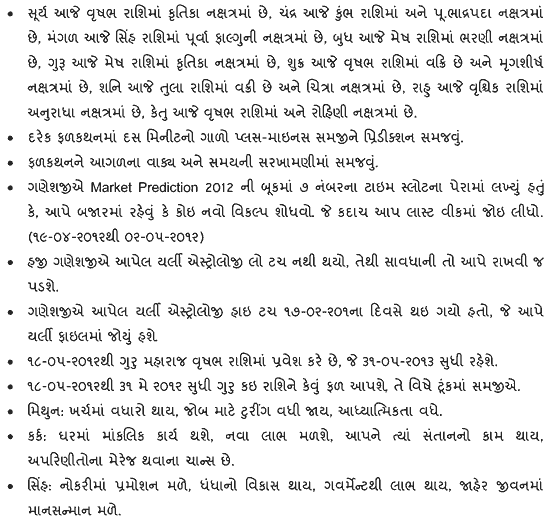 Hindi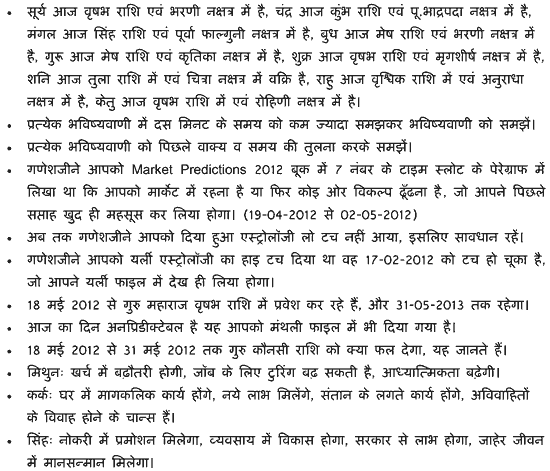 For further details, please contact customer care.
Telephone: 079 65221416
Mobile: +91 – 9909941816
Email: stockmarket@ganeshaspeaks.com.