Consider 10 minutes plus and minus in each prediction, and act accordingly.
Ganesha advises you to compare every prediction with the prediction of the previous time slot.
With this blog, Ganesha also gives you a detailed article about the upcoming Union Budget.
Please refer to what Ganesha has written in the opening paragraph for the period between 13-03-2012 and 06-04-2012 in the book ?MARKET PREDICTIONS 2012?. (You can find it on Page No. 23 in the English version, and Page No. 89 in the Gujarati version)
You are advised to stay away from the Dabba trading during the coming week, says Ganesha.
The Railway Budget- 2012-13 is going to be presented on 14-03-2012.
On 15-03-2012, the RBI's Credit Policy and Economic Survey Report are going to be presented.
The Union Budget is going to be presented on 16-03-2012, which also happens to be the last trading day of this week.
Today, Moon is in the Moon sign Libra, and in Swati constellation. In other words, Moon is in Rahu's constellation.
Today, Moon and Saturn are making Vishayoga.
From 11:40 to 13:00, Nifty may move in the current trading range or on the soft side.
From 13:00 to 13:35, Nifty may experience a jump on the up-side.
For detailed personalised prediction email us on stockmarket@ganeshaspeaks.com or call us on +91-9909941816

Gujarati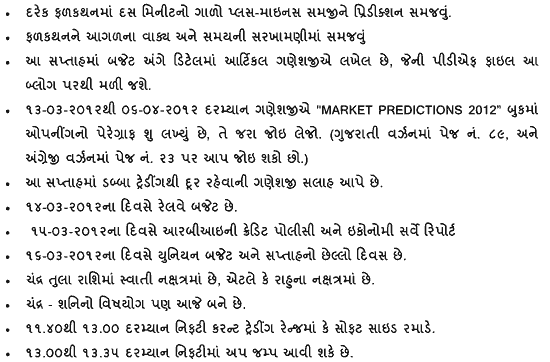 Hindi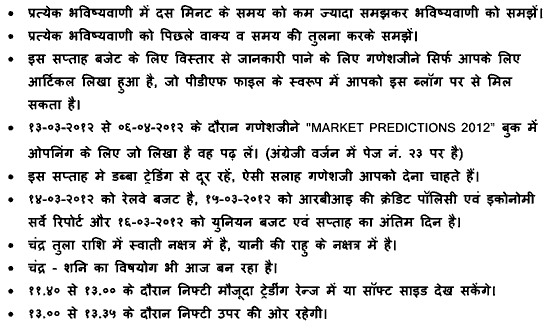 For further details, please contact customer care.
Telephone: 079 65221416
Mobile: +91 – 9909941816
Email: stockmarket@ganeshaspeaks.com