Consider 10 minutes plus and minus in each prediction, and act accordingly.
Ganesha advises you to compare every prediction with the prediction of the previous time slot.
In September, Mars will be highly disturbed. Hence, construction, real estate, marble, red metal, and agro-chemical products will become expensive. To be precise, the period between 15th September and 19th September will be the most crucial. An earthquake cannot be ruled out during this period. And around 23rd September, a natural or man-made disaster is likely.
Mercury is becoming disturbed on 14th, 15th, and 16th of September. Thus, Banks, Nifty, and Telecom may become highly volatile.
Friends, you must have received the September monthly predictions and must have noted the zero weightage for the month. Also, you must have taken note of the history of the zero weightage months. Thus, take a position accordingly and in case you have not received the file, request for one through e-mail.
The Moon is in the Shravan constellation.
In the Navmansha horoscope Jupiter and Ketu are in combination. Jupiter is thus losing its strength.
The closing today will be a little different than that during the previous four days, says Ganesha.
From 09:15 to 10:00- Nifty may make a flying pattern and hence there may be buying in the fundamental strong scrip.
From 10:00 to 11:25- Nifty may go side ways, predicts Ganesha.
From 11:25 to 11:50- The number of calls will be equal to the number of put. But Ganesha foresees one big jump as well.
From 11:50 to 13:00- It is not a favourable period. Ganesha feels that you may get to see a head and shoulder pattern.
From 13:00 to 15:30- There may by two corrections, one at 14:23 and the other at 15:23. Overall, Nifty will try to sustain itself.
For detailed personalised prediction email us on stockmarket@ganeshaspeaks.com or call us on +91-9909941816
Gujarati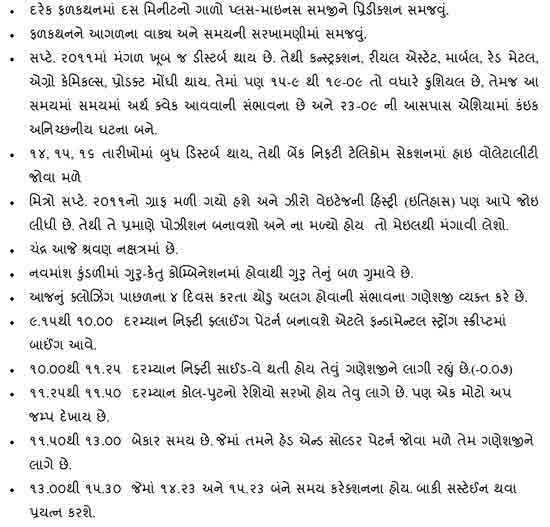 Hindi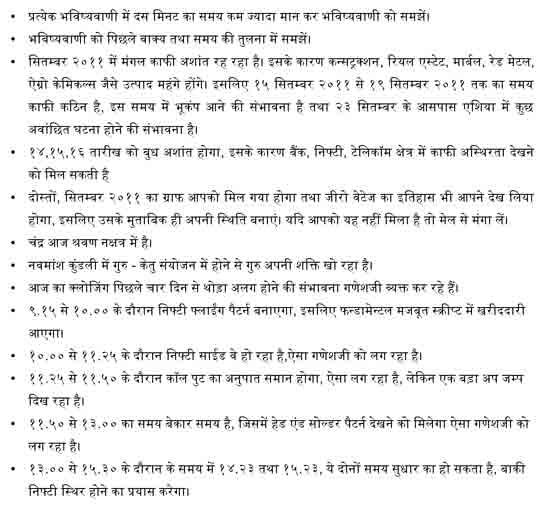 For further details, please contact customer care.
Telephone: 079 65221416
Mobile: +91 – 9909941816
Email: stockmarket@ganeshaspeaks.com