Consider 10 minutes plus and minus in each prediction, and act accordingly.
Ganesha advises you to compare every prediction with the prediction of the previous time slot.
Please keep in mind that all the predictions mentioned in this blog are for intraday, and are written one in week in advance.
Market will bear the direct impact of the news regarding P.Chidambaram, which is supposed to come on the 4th of this month. You need to be alert, cautions Ganesha.
One month ago, Ganesha had sent you the Monthly file of February. Have a look at that file, and see what the weightage for 06-02-2012 will be. Please take a note of the weightage for your benefit.
Ganesha foresees a possibility that around 6th, 15th, 27th , and 29th of this month earthquakes, tsunami, and terrorists attacks are likely to hit Asian countries.
Today, Moon in the Madha constellation of the Moon sign Leo.
Remedy for Saturn:
– Wear a ring made out of horseshoe or a boat?s nail on your middle finger.
– Take a Peepal tree leaf. Put vermillion, sesame over it. Light a diya (lamp) of mustard oil and place all these things under a Peepal tree before Sunrise. Do the same for seven consecutive Saturdays.
– Keep a square silver piece in your pocket.
– Wear a silver ring in your left hand.
– Chant the following mantra
NILANJANA SAMA BHASAM RAVIPUTRAM YAMA GRAJAM ||
CHHAAYA MARTANDA SAMBHOOTAM TAM NAMAMI SHANAISHCHARAM ||
Contact Mr. Akshay Maradia for Sadesati Yantra, 14 mukhi Rudraksh, especially if you wish to dilute the negative effects of Saturn.
A combination of Moon and Mars in your personal Kundali may bear favourable results.
From 9:15 to 10:03, Nifty is likely to maintain its opening surface.
From 10:03 to 11:15, it is likely to be a down-up-down time slot.
From 11:15 to 12:15, some pressure may build up gradually at Nifty, predicts Ganesha.
From 12:15 to 13:03, the market is likely to be without any clear direction.
From 13:03 to 13:39, there may be three jumps on the up side at Nifty.
Nifty is likely to be highly volatile between 13:39 and 15:30. Ganesha predicts that Nifty may create a 'W' shaped graph. Now, it's totally on you to take a decision.
For detailed personalised prediction email us on stockmarket@ganeshaspeaks.com or call us on +91-9909941816
Gujarati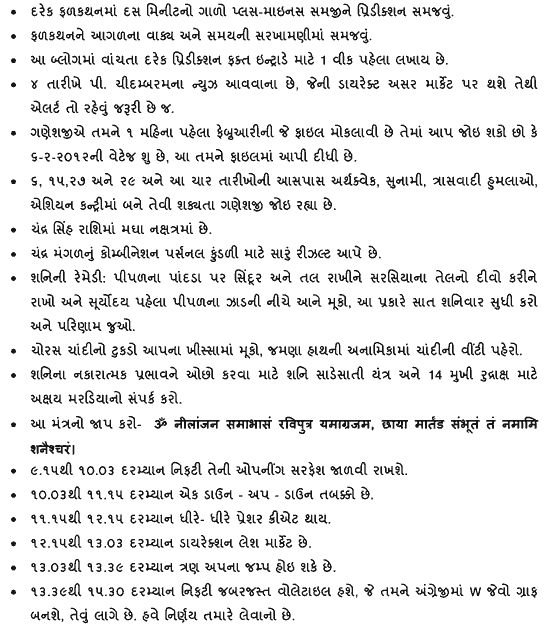 Hindi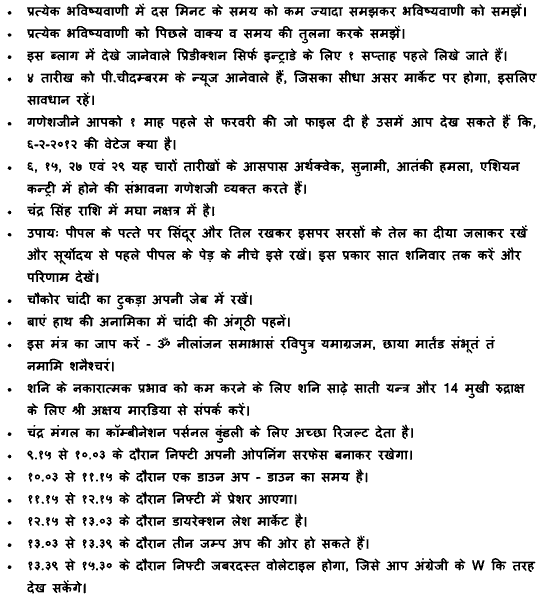 For further details, please contact customer care.
Telephone: 079 65221416
Mobile: +91 – 9909941816
Email: stockmarket@ganeshaspeaks.com