Consider 10 minutes plus and minus in each prediction, and act accordingly.
Ganesha advises you to compare every prediction with the prediction of the previous time slot.
Please recall what Ganesha had advised in the first sentence of the paragraph for the period between 01.08.2011 and 05.08.2011 in August, 2011 monthly graph. Trends are in tune with the predictions, so make sure you take the advantage of the situation.
It had already been mentioned in the blog that during this entire week, from 12:45 to 13:55, Nifty will remain soft. You must have noticed that in the daily graph.
You were given a low figure in the monthly graph, which was achieved on 03.08.2011. Ganesha assumes that you must have followed this useful tip to your maximum advantage. That's why, Ganesha is happy for you.
Next week, the market will remain closed on 15.08.2011 the occasion of Independence Day. Thus, there will be only four working days in the week. Make your position accordingly.
On 12.08.2011, L&T is likely to get listed.
BSE has 7792 listed companies. Out of these companies, stocks of 4700 companies are floated for trade. Many of these companies belong to the group Z. Thus, in total there 1325 companies, whose stocks are not being floated for trade. And, Ganesha advises you against making an entry in the stocks of such invisible companies.
Today, Moon is in Jeshtha Nakshatra of Moon sign Scorpio.
The combinations of Rahu-Moon, Sun-Venus, Jupiter-Ketu are not very good in the Navmansh Horoscope.
Ganesha feels that the market will try to stabilise itself today.
Initially up and then some correction, and eventually back to the square one. Thus you will have a chance to take some advantage of the zero weightage. Now how you make the most of this is left by Ganesha on you. This period may remain till 10.25
From 10:25 to 12:05, Nifty is going to be quiet but positive, foresees Ganesha.
From 12:05 to 13:30, the market is likely to remain week, mostly due to the globally negative notions, feels Ganesha.
From 13:30 to 13:55, Nifty may take a positive jump. Ganesha advises you to consider this in relation/ comparison to the previous time slot.
For detailed personalised prediction email us on stockmarket@ganeshaspeaks.com or call us on +91-9909941816

Gujarati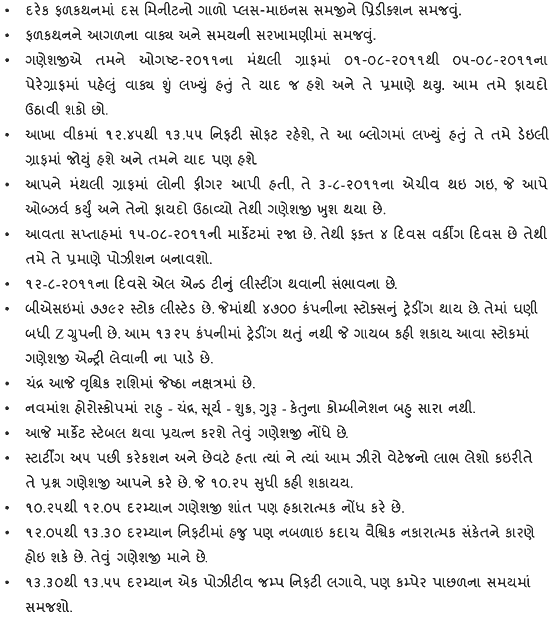 Hindi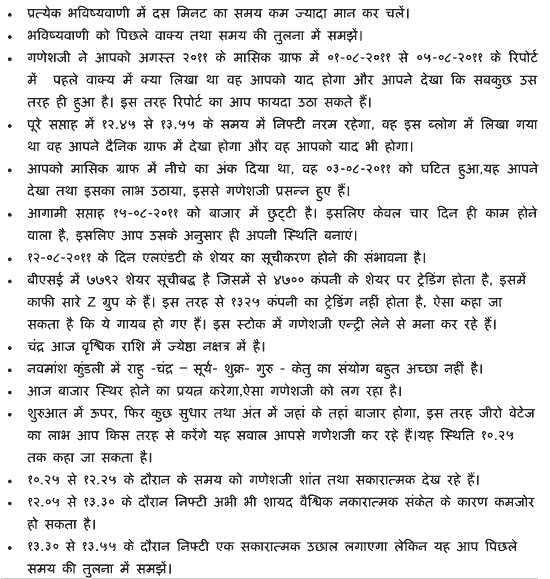 For further details, please contact customer care.
Telephone: 079 65221416
Mobile: +91 – 9909941816
Email: stockmarket@ganeshaspeaks.com