Consider 10 minutes plus and minus in each prediction, and act accordingly.
Ganesha advises you to compare every prediction with the prediction of the previous time slot.
Please keep in mind that all the predictions mentioned in this blog are for intraday, and are written one in week in advance.
Market will bear the direct impact of the news regarding P.Chidambaram, which is supposed to come on the 4th of this month. You need to be alert, cautions Ganesha.
One month ago, Ganesha had sent you the Monthly file of February. Have a look at that file, and see what the weightage for 06-02-2012 will be. Please take a note of the weightage for your benefit.
Ganesha foresees a possibility that around 6th, 15th, 27th , and 29th of this month earthquakes, tsunami, and terrorists attacks are likely to hit Asian countries.
Today, Moon is in the Ashlesha constellation of the Moon sign Cancer.
If you are born in the Ashlesha constellation as per your personal natal chart, you need to get the Nakshatra Shanti Vidhi done. You may experience growth only after that.
From today onwards, Lord Saturn will go retrograde in the Moon sign Libra.
Saturn Remedy:
– Give donations to the poor on Saturday evenings, or distribute food among hungry people near a temple.
– Fast on Saturdays, during the Panoti major or minor .
– Chant Shani Beej Mantra on Saturdays: OHM SHAN SHANAISHCHARAY NAMAHA
– Read Sundar Kand, or Hanuman Chalisa, or Mahamrityunjaya, or Shani strot, or Shani Mantra.
– Donate coconut and peanuts in temples, or donate things, which Lord Saturn likes, such as sesame, oil, iron-made articles, salt, coins, black clothes, blankets, shoes, umbrella etc. Donate these things in the numerals of 8- meaning 8 kg, 8 litre etc.
Today, there may be a technical bounce at Nifty. However, it is difficult to predict the exact figure for the same one week in advance.
Let the first fifteen minutes pass and then take your decision, advises Ganesha.
Follow the 'trend is our friend' policy during 9:20 to 10:30. The overall trend, however, is likely to be on the up side.
From 10:30 to 11:15, pass/ bide your time, but don't take any new position, advises Ganesha.
Between 11:15 and 11:40, there may be a high jump in the FII. But, it would happen at such a fast pace that one would not be able to trade only.
The weightage for the period between11:40 and closing bell is zero. Nifty will change its trend every 11 minutes.
For detailed personalised prediction email us on stockmarket@ganeshaspeaks.com or call us on +91-9909941816
Gujarati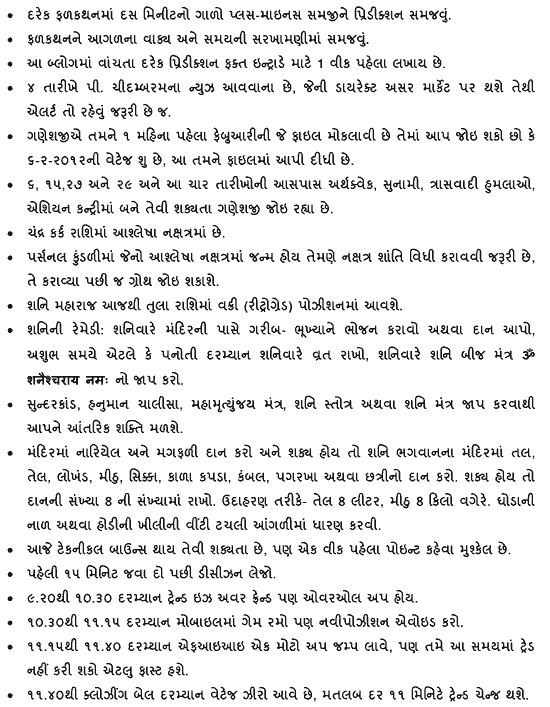 Hindi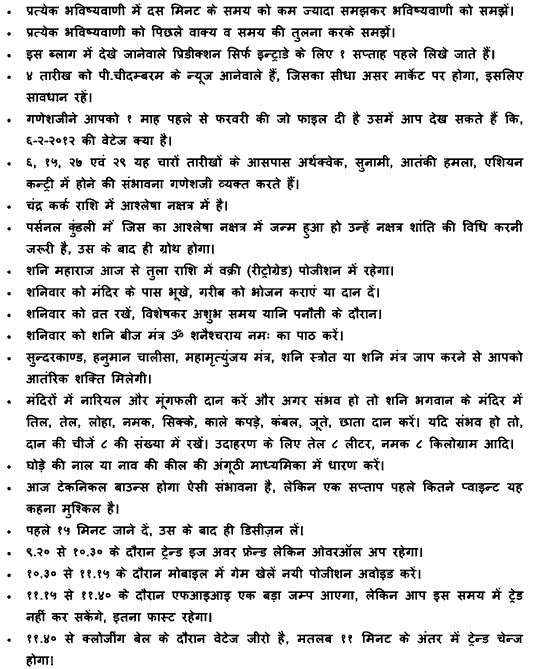 For further details, please contact customer care.
Telephone: 079 65221416
Mobile: +91 – 9909941816
Email: stockmarket@ganeshaspeaks.com