Consider 10 minutes plus and minus in each prediction, and act accordingly.
Ganesha advises you to compare every prediction with the prediction of the previous time slot.
The predictions that you refer to daily on our blog, are written one week in advance, and you receive it in the from of a PDF file.
Very active dates with wide fluctuations and high volatility for the month of April are: 13, 15, 21, 27
The market will be closed on 12-04-11 and 14-04-11. Thus, in the next week, there are just three days of trading. Hence, there is no need to take any position in F&O.
The Moon is in the Kruttika Nakshatra of the zodiac Taurus, its own exalted sign.
From the pre-opening period, the market may open in a reverse pattern, envisages Ganesha. Wait for the opening period.
09:15 to 12:30- This is the period for arbitragers, Jobbers, and those who can and like trading fast. If the period confuses you, the best you can do is stay away from trading.
14:35 to 15:30- Nifty is likely to make a 'v' shaped graph. Now it's up to you to decide what you need to do.
For detailed personalised prediction email us on stockmarket@ganeshaspeaks.com or call us on +91-9909941816


Gujarati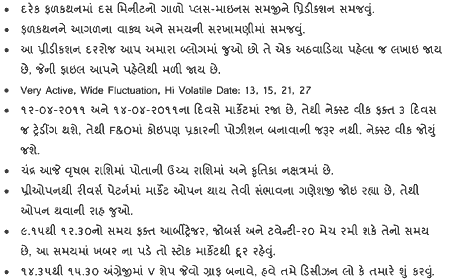 Hindi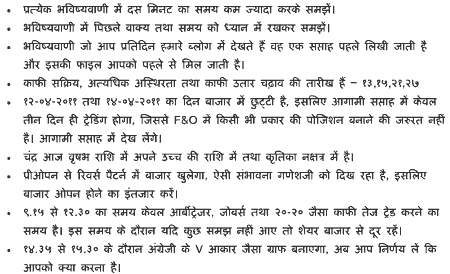 For further details, please contact customer care.
Telephone: 079 65221416
Mobile: +91 – 9909941816
Email: stockmarket@ganeshaspeaks.com