Consider 10 minutes plus and minus in each prediction, and act accordingly.
Ganesha advises you to compare every prediction with the prediction of the previous time slot.
With Ganesha's blessings, we have come up with? Market Predictions 2012, an yearly overview book regarding the stock market. If you wish to purchase this splendid book, please e-mail your order on stockmarket@ganeshaspeaks.com
This comprehensive book contains trend changer dates of 2012, personalised Sun Sign predictions along with the predictions for 2012 for the major countries of the world. Moreover, Nifty openings and other important dates for the stock market in 2012 are also mentioned in Market Predictions 2012. All of these predictions are given to you at the beginning of the year, so that you can use this as a tool to sail smoothly throughout the year. However, don't forget to use your own discretion and make the most of your skills and knowledge while trading at Nifty.
Friends, you can see it from the graph that January 2012 will set the trend for the entire year ahead. You have no option but to be cautious and careful.
Nifty may suddenly go down at14:05, and there may be short covering at 15:18. Therefore, these two times may prove to be very important at Nifty. Be alert. However, it is difficult to tell you the exact figure one week in advance.
The weightage for the period from 9:15 to 11:30 is 0.01. This means the Nifty is likely to open on the up-side, then it may go down, and then it shall move up again. Thus it will complete the time-slot like this, foresees Ganesha.
From 11:30 to 12:30, Nifty may remain up. There may be buying in the multibagger stocks.
Take a small break during 12:30 to 13:17, as the weightage for this period is just -0.01. Take global cues in mind, while taking any decisions, advises Ganesha.
There may be a momentary jump at Nifty during the period between 13:17 and 13:39. Be ready with your next move.
The period between 13:39 to 14:23, shall be a time slot for arbitrageur. Avoid doing intraday, and don't take any position during this period.
From 14:23 to 15:07, Nifty may experience a downward trend. There will be frequent changes in the curve chart.
Ganesha foresees that there may be a ray of hope at Nifty during the time frame between 15:07 and closing bell. However, if there is some panic in the market at around this time, it is difficult to predict how long this positive sentiment will be sustained.
For detailed personalised prediction email us on stockmarket@ganeshaspeaks.com or call us on +91-9909941816

Gujarati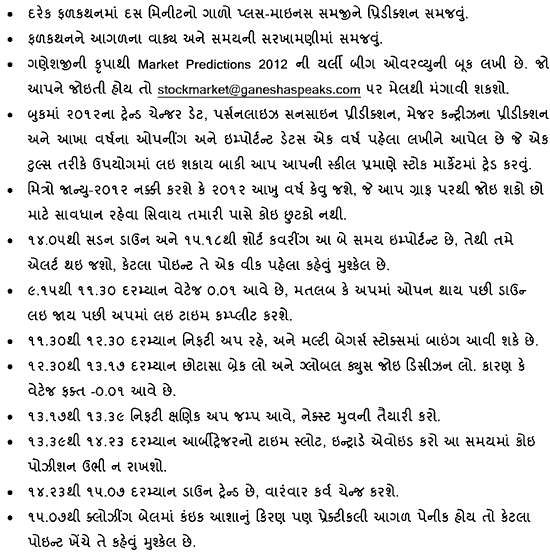 Hindi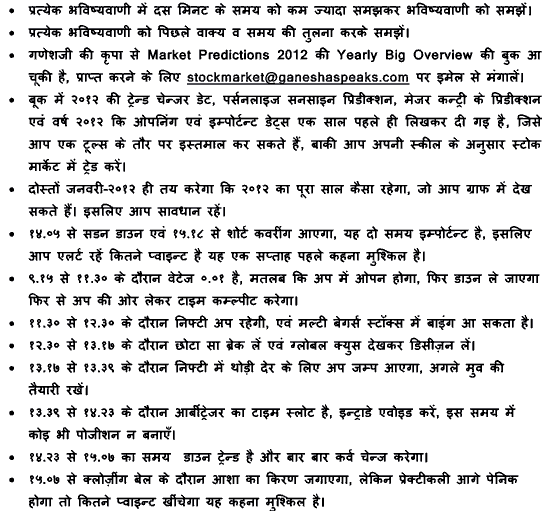 For further details, please contact customer care.
Telephone: 079 65221416
Mobile: +91 – 9909941816
Email: stockmarket@ganeshaspeaks.com