Consider 10 minutes plus and minus in each prediction, and act accordingly.
Ganesha advises you to compare every prediction with the prediction of the previous time slot.
Ganesha makes these predictions, with the help of astrology, one week in advance. Most of the the times they are accurate but in case there is a difference during any particular hour you lose patience. You cannot afford to do this in the market.
There are just 4 trading days during this week; Ganesha says, do not be very hopeful.
Ganesha is a little disappointed. He, after a lot of efforts, predicts the important dates, months and time slots for you but you are probably not reading the details.
If there are some disturbances in the stock markets in Portugal, Ireland, Greece or Spain, it eventually affects the Indian markets, which, according to Ganesha, is incorrect.
Ganesha had told you on 28th September that you should take a new position only after 04-10-2011 and that there is no need to panic, be tensed or get excited right now. Now you know why Ganesha had told you so?
Moon is in the Uttarashadha constellation, today.
From today Venus will start transiting through its own sign i.e. Libra.
From 09:15 to 11:20- The weightage is -0.01. In such minimal weightage making profits will be a task. Just keep in mind that doing nothing during this phase is equal to making profits.
From 11:20 to 12:31- Nifty may hold on to a consistent level.
From 12:31 to 14:25- Nifty may pass the time in a stable or uniform area.
From 14:25 to the closing bell- Nifty, with an uneven pattern, will try to hold on to the upward movement.

For detailed personalised prediction email us on stockmarket@ganeshaspeaks.com or call us on +91-9909941816


Gujarati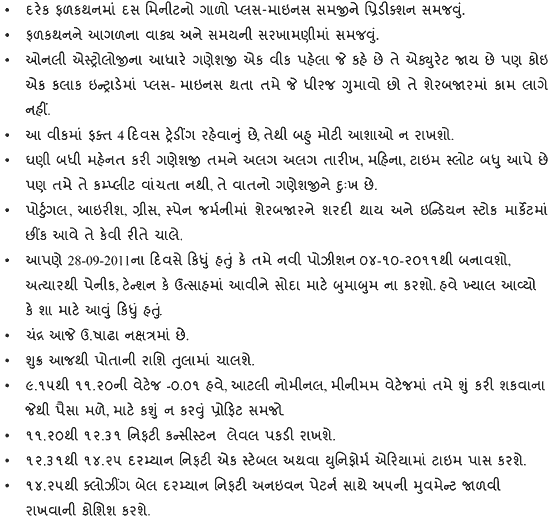 Hindi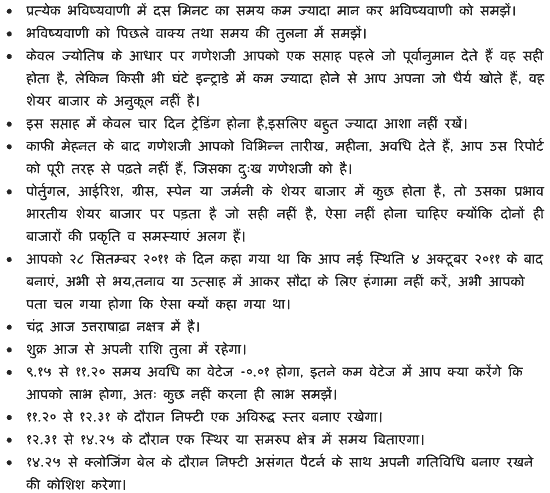 For further details, please contact customer care.
Telephone: 079 65221416
Mobile: +91 – 9909941816
Email: stockmarket@ganeshaspeaks.com