Consider 10 minutes plus and minus in each prediction, and act accordingly.
Ganesha advises you to compare every prediction with the prediction of the previous time slot.
Friends, if you have not received the July monthly file, ask for it now!
The special note in the July 2011 file will prove to be very helpful. Make sure you keep it in mind while you trade.
There is no clear trend, hence, if you be careful and use the prediction as a tool, you may minimise losses and maximise your profits.
Those who do intraday only need to pay attention to the day's average and the daily prediction and should square off their position. The trend will be your friend, says Ganesha.
The moon is in the Magha nakshatra of Sinha rashi.
Today, in the navmansh kundali, Moon and Saturn are in combination.
The share market is not just a market to earn money but it is that of risks.
Friends, while playing in the stock market, first make sure what you are- an intraday trader, a weekly trader, a monthly trader, a yearly trader, or you just play in call put or Future. If you also take technical or any such other tips you will confuse yourself even more. Overall, there is a possibility of loss at the market.
From 11:10 to 11:50- Nifty may remain steady near that point. You can take a break if you wish.
In the period after 14:10, Ganesha may make things a little difficult for you. If  you trade, it is likely that you receive results opposite of what you have thought. So, take your own decision.
For detailed personalised prediction email us on stockmarket@ganeshaspeaks.com or call us on +91-9909941816
Gujarati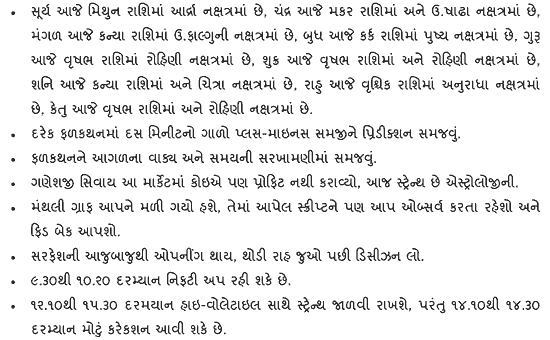 Hindi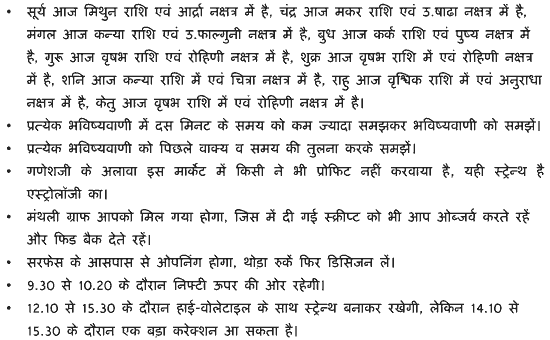 For further details, please contact customer care.
Telephone: 079 65221416
Mobile: +91 – 9909941816
Email: stockmarket@ganeshaspeaks.com
Or Visite our Website :- www.GaneshaSpeaks.Com