Consider 10 minutes plus and minus in each prediction, and act accordingly.
Ganesha advises you to compare every prediction with the prediction of the previous time slot.
In the previous week, Ganesha had advised you to take a position for the month of August only after 01-08-2011, and how correct he was! Hasn't he saved you from a major loss?
You must have received the high and low value for Nifty for the first week of August along with the weekly Nifty predictions.
You can now see news channels, SMSs, newspapers and agencies asking you to take a position after 2nd August. Well, Ganesha had told you the same a fortnight back.
The opening on Monday and Tuesday is likely to be between flat and negative.
The opening on Wednesday, Thursday, and Friday may be somewhere close to the surface.
During the entire week, between 12:45 and 13:55, Nifty is likely to be soft.
In the predictions for the month of July, Ganesha had predicted some support and some resistance level. Neither technical nor fundamental tips may have given you such accurate predictions, a month in advance. It's only Ganesha who, with the help of astrology, can give such precise predictions. Well, this is the strength of astrology.
From 09:15 to 10:39- Nifty may remain in the same position, the time is not very interesting and the weightage for the time slot is zero.
From 10:39 to 12:17- Ganesha feels that there may be an upward movement at Nifty.
From 12:17 to 14:09- Nifty may make a 'W' shaped graph, the weightage for the time slot is zero.
From 14:09 to the end of the day- Nifty may come down, step-by-step.
For detailed personalised prediction email us on stockmarket@ganeshaspeaks.com or call us on +91-9909941816


Gujarati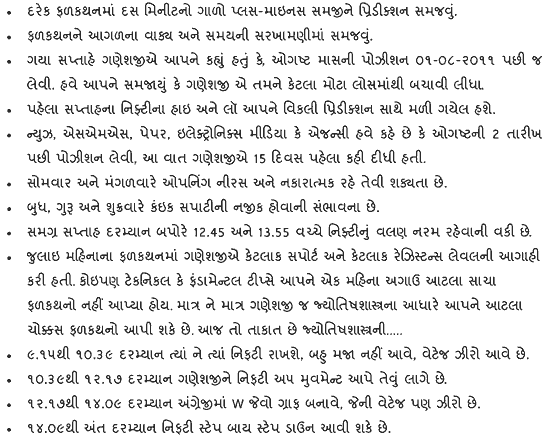 Hindi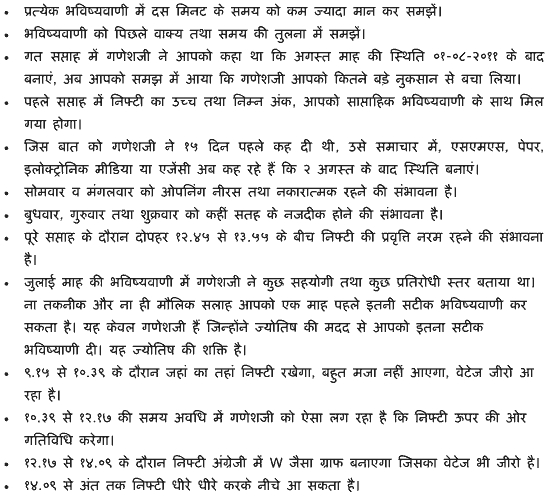 For further details, please contact customer care.
Telephone: 079 65221416
Mobile: +91 – 9909941816
Email: stockmarket@ganeshaspeaks.com