From 07/06/2011, Rahu is entering Scorpio (alphabets- N and Y) moon sign and Ketu is entering Taurus (alphabets- B, V and U) moon sign. So the people with these two Moon signs need to be highly alert during this phase. Rahu and ketu have the ability to generate a serious malefic impact on your life. You may come across various problems, which will strain your nerves. Ventures that you may undertake during this period may not bear desired fruit. Your enemies will try to tarnish your image. Financial conditions may also deteriorate. Health problems will disturb your peace of mind. Avoid rash behaviour and decisions. If you are in business, you will become very ambitious. But your rash behaviour may create problems. Some teething problems may bother you during this period. Synchronizing things effectively may become difficult. Ganesha feels that this is the time to overcome problems and adversities. Try to develop the much needed resistance, and concentrate on your routine.
Remedy
Ganesha advises you to worship Lord Shiva and observe a fast on Monday.
Offer 'abhishek' of raw milk followed by pure water to Shiv Lingam on every Monday along with recitation of the mantra ?Om Namah Shivaay? 21 times.
Offer red flowers and ?Gud? (Jaggery) to Lord Ganesha, everyday. While worshipping, recite the mantra ?Om Gan Ganpataye Namah? 108 times.
Offer 'abhishek' of pure water to Chandra Yantra.
Today the moon is in the Ashlesha nakshatra of the Kark rashi.
Today, in the navmansh kundali, Sun and Rahu are in combination.
You may have received the file describing how much sensex and Nifty practically returned in the last 10 years.
After opening around the surface, there may be buying at Nifty, foresees Ganesha.
or detailed personalised prediction email us on stockmarket@ganeshaspeaks.com or call us on +91-9909941816


Gujarati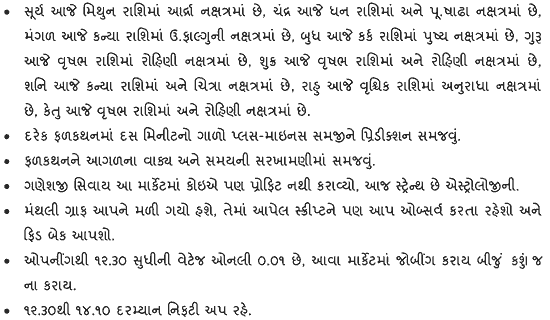 Hindi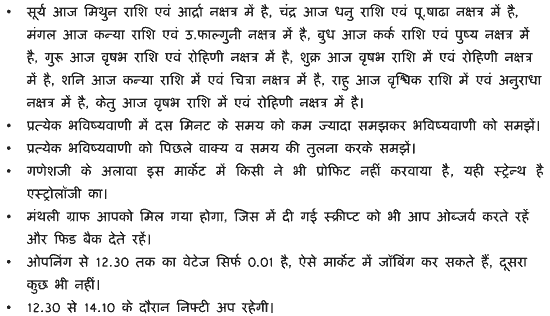 For further details, please contact customer care.
Telephone: 079 65221416
Mobile: +91 – 9909941816
Email: stockmarket@ganeshaspeaks.com