Consider 10 minutes plus and minus in each prediction, and act accordingly.
Ganesha advises you to compare every prediction with the prediction of the previous time slot.
Please keep in mind that all the predictions mentioned in this blog are only for intraday, and are written one in week in advance.
Friends, Ganesha predicts that in the month of February 2012, the market is going to have zero weightage four times. You very well know how the market behaves whenever it has a zero weightage period. Now, it is difficult to reach a definite conclusion, and it may also become too difficult for you to decide your next step.
Ganesha, yet again, throws a word of caution and reminds you of how the market becomes extremely confusing during a zero weightage period. As you already know, it is difficult to foretell the direction in which the market may go during such times. Therefore, Ganesha strongly advises you to stay alert right from January 2012.
Kindly remind us to guide you regarding Bank Nifty for the period between 23-04-2101 and 27-04-2012 in the Monthly graph for the month of April.
The PDF file consisting the history of zero weightage has already been sent to you.
Ganesha is hopeful about today's weightage. However, keep in mind that today is the last day of the week, cautions Ganesha.
From 9:15 to 9:35, Nifty may be flat to surface.
From 9:35 to 10:50, think positive and follow a positive trend, says Ganesha.
Ganesha foresees that during 10:50 to 13:35 you may have to trade a lot in order to earn even a small amount of money.
From 13:35 to 14:15, Nifty is likely to be up.
From 14:15 to 14:35, Nifty may be down.
Nifty is likely to be up during 14:35 to 15:00.
From 15:00 to 15:20, Nifty may be down.
From 15:20 to 15:30, Nifty may be up.
For detailed personalised prediction email us on stockmarket@ganeshaspeaks.com or call us on +91-9909941816

Gujarati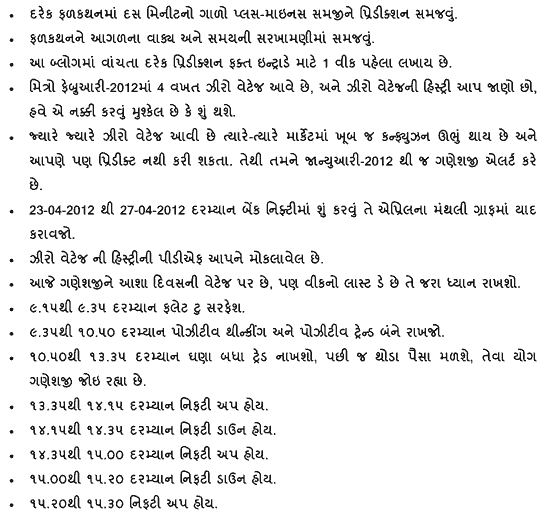 Hindi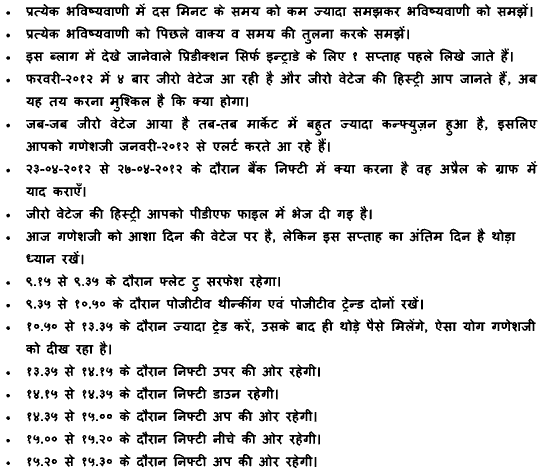 For further details, please contact customer care.
Telephone: 079 65221416
Mobile: +91 – 9909941816
Email: stockmarket@ganeshaspeaks.com