Consider 10 minutes plus and minus in each prediction, and act accordingly.
Ganesha advises you to compare every prediction with the prediction of the previous time slot.
In the previous week, Ganesha had advised you to take a position for the month of August only after 01-08-2011, and how correct he was! Hasn't he saved you from a major loss?
You must have received the high and low value for Nifty for the first week of August along with the weekly Nifty predictions.
You can now see news channels, SMSs, newspapers and agencies asking you to take a position after 2nd August. Well, Ganesha had told you the same a fortnight back.
The opening on Monday and Tuesday is likely to be between flat and negative.
The opening on Wednesday, Thursday, and Friday may be somewhere close to the surface.
During the entire week, between 12:45 and 13:55, Nifty is likely to be soft.
Ganesha is here to guide you through the difficult times. You may be receiving tips that give you 3 supports and 3 resistant levels and claim 100% accuracy. And then, if you may come across loss in the market, you may receive tips that may give you new targets and new stop-loss figures. Well, this is not possible through astrology. Astrology can give you an idea of the trend and the possibilities in the times to come. Use it as a tool and make the most of the predictions. At the individual level, everyone is right. But everyone has some limitations and some skills. Ganesha hopes that you will keep them in mind, and make as many profits as possible. Ganesha has already predicted the big view in the 2011 yearly graph.
The opening is likely to be close to the surface, and it will hold strength at that position or may remain steady.
From 10:15 to 10:30- There may be a small correction.
From 10:30 to 14:00- Nifty may make you do jobbing on the up side in the beginning and after 12:30, it may make you do jobbing on the down side.
From 14:00 to 14:30- There may be a small jump.
For detailed personalised prediction email us on stockmarket@ganeshaspeaks.com or call us on +91-9909941816


Gujarati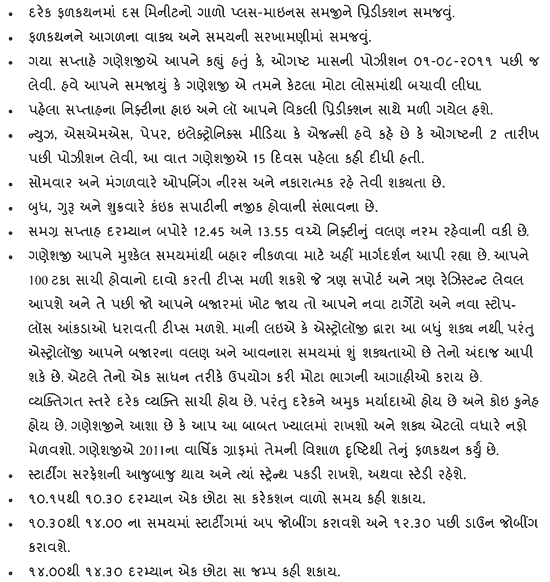 Hindi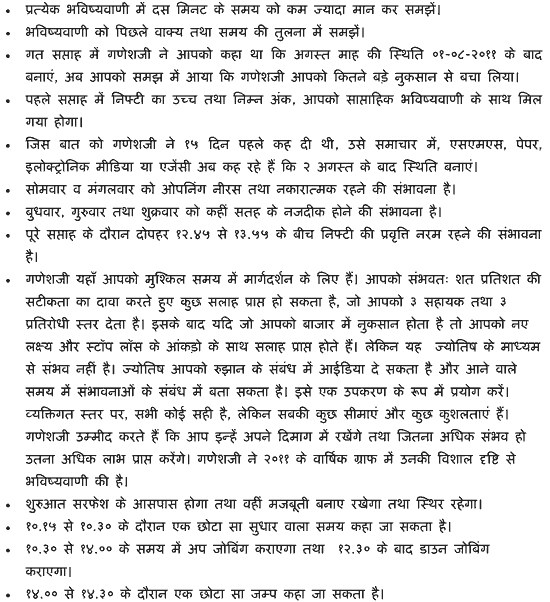 For further details, please contact customer care.
Telephone: 079 65221416
Mobile: +91 – 9909941816
Email: stockmarket@ganeshaspeaks.com