On
10-01-2011, Ganesha had predicted that the month of January will not
be favourable, which you must have noted.

As
on 18-01-2011, Ganesha had asked you not to rely on the opening,
until He gives a signal.

Refer
to the document of the current phase in the graph of 2011 to see the
predictions. Note all the dates so that you can plan systematically.
The phase may be unfavourable from 9-3-2011 to 18-3-2011.

You
must have observed that when everyone was saying that the trend may
go up, Ganesha had predicted that it may go down. Now, when they are
saying that it will go down, Ganesha opines that the market will go
up. Investors, do not panic. From 3-2-2011, you will feel much more
confident, don't you worry.

Ganesha
hopes that you would take the best advantage of the tips given to
you through SMS.

The
pre-open market is likely to be between flat and negative.

From
9:15 to 9:50, Nifty may make you do jobbing on the downside.

From
9:50 to 11:00, Nifty may go North, feels Ganesha.

From
11:00 to 14:00 is a totally useless time-slot; not very favourable.

From
14:00 to 14:30, there may be a buying trend at Nifty. However, the
time-slot is very small; there is a possibility that you may not be
able to strike a deal.

From
14:30 to 15:30, the overall trend is likely to be down or soft.
For detailed personalised prediction email us on stockmarket@ganeshaspeaks.com or call us on +91-9909941816
Gujarati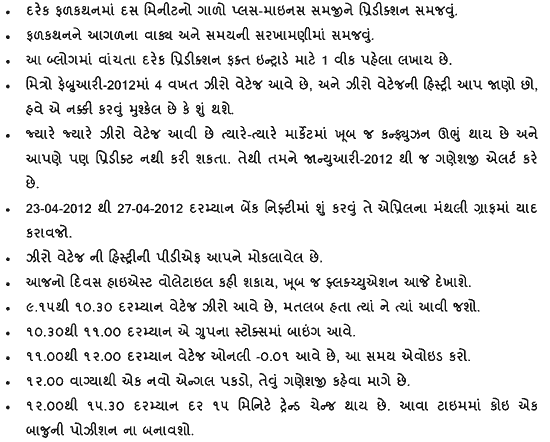 Hindi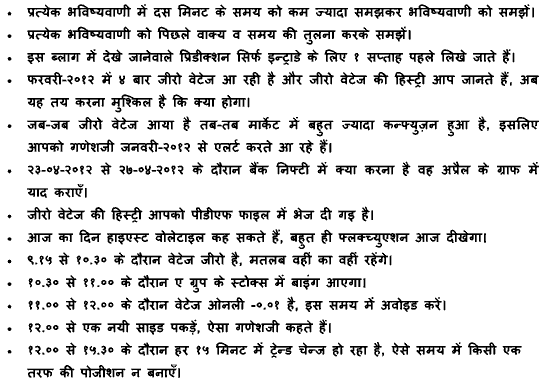 For further details, please contact customer care.
Telephone: 079 65221416
Mobile: +91 – 9909941816
Email: stockmarket@ganeshaspeaks.com