Consider 10 minutes plus and minus in each prediction, and act accordingly.
Ganesha advises you to compare every prediction with the prediction of the previous time slot.
Nifty is likely to be unpredictable during the period between 9:15 to 9:30. There is not clarity regarding combinations of the planets, so Ganesha advises you to wait for indraday.
9:30 to 11:27, do jobbing on both the sides, advises Ganesha, as it may turn out to be very profitable, and you may be able earn a lot.
Dear friends, many times it happens that the positions of planets make same combinations. And as a result, Ganesha ends up saying the same thing again and again. Thus, Ganesha Himself is sometimes confused as to how to put it into different words. And, what can be said to those of you who trade without carefully reading Ganesha's blog.
From 11:27 to 11:49, Nifty is likely to become steady.
Nifty may feel selling pressure during 11:49 to 12:22.
From 12:22 to14:34, initially, Nifty may remain down, but it may gradually go up. However, this trend is likely to be very risky, foresees Ganesha.
There is not going to be any clear trend at Nifty during the period between 14:34 and 15:30. This time slot is likely to be very dull. Ganesha advises you not to do intraday now.
For detailed personalised prediction email us on stockmarket@ganeshaspeaks.com or call us on +91-9909941816
Gujarati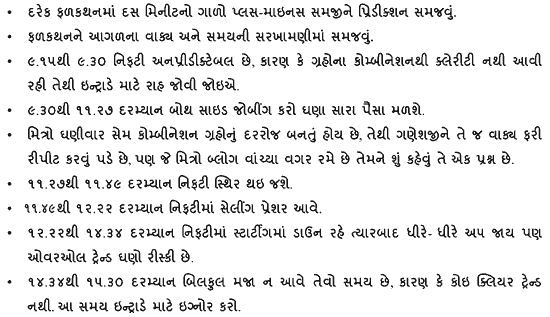 Hindi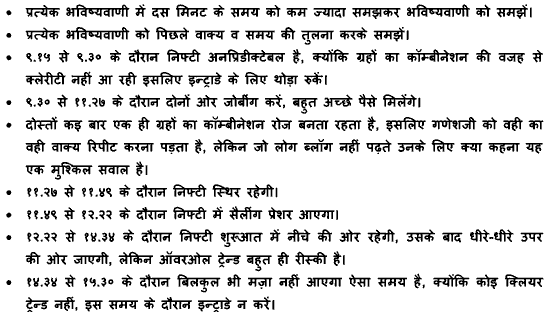 For further details, please contact customer care.
Telephone: 079 65221416
Mobile: +91 – 9909941816
Email: stockmarket@ganeshaspeaks.com