Consider 10 minutes plus and minus in each prediction, and act accordingly.
Ganesha advises you to compare every prediction with the prediction of the previous time slot.
Please keep in mind that all the predictions mentioned in this blog are only for intraday, and are written one in week in advance.
Friends, Ganesha predicts that in the month of February 2012, the market is going to have zero weightage four times. You very well know how the market behaves whenever it has a zero weightage period. Now, it is difficult to reach a definite conclusion, and it may also become too difficult for you to decide your next step.
Ganesha, yet again, throws a word of caution and reminds you of how the market becomes extremely confusing during a zero weightage period. As you already know, it is difficult to foretell the direction in which the market may go during such times. Therefore, Ganesha strongly advises you to stay alert right from January 2012.
Kindly remind us to guide you regarding Bank Nifty for the period between 23-04-2101 and 27-04-2012 in the Monthly graph for the month of April.
The PDF file consisting the history of zero weightage has already been sent to you.
Ganesha is not happy with the opening at Nifty today. The average for intraday looks set to be marginal today.
Buy at Nifty right from the opening points, because Ganesha predicts that Nifty is likely to experience a gradual upward trend that may continue till 10:40.
The period between 10:40 and 12:15 appears to be a high risk-high gain time slot. Jobbing seems to be the most feasible option for this period.
From 12:15 to 14:00, Nifty may experience a downward trend.
From 14:00 to 15:30, Nifty looks set to have three slots for a downward trend and five slots for an upward trend.
Gujarati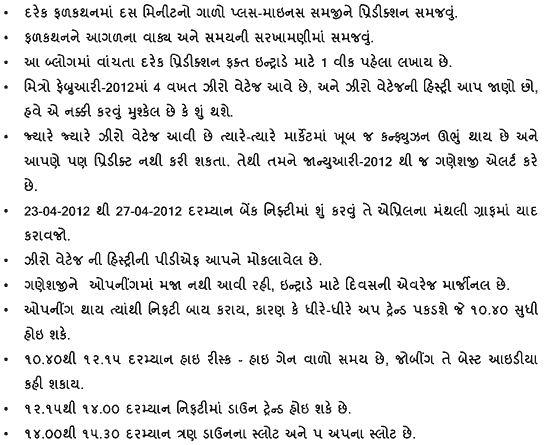 Hindi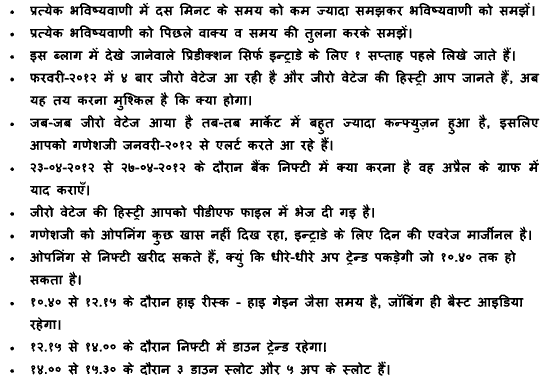 For further details, please contact customer care.
Telephone: 079 65221416
Mobile: +91 – 9909941816
Email: stockmarket@ganeshaspeaks.com