Consider 10 minutes plus and minus in each prediction, and act accordingly.
Ganesha advises you to compare every prediction with the prediction of the previous time slot.
Ganesha advises you to not take entry in the sectors of Castings & Forgings, Chemicals, Cigarettes, Construction & Contracting, Housing, Real Estate, Detergents, Ceramic tiles & marble, Dry Cells/Dyes & Pigments, Plantations – Tea & Coffee, Refineries, Metals, Non Ferrous metals, Agro chemicals, and Ceramics till 03-01-2012. There may be specific buying in these sectors post 3rd January 2012 only, predicts Ganesha.
Don't be over-confident during the entire week ahead, advises Ganesha. Be alert.
The planetary positions are not likely to be favourable in the coming week, and therefore the market may generate low volume and marginal business, foretells Ganesha. Hence, it is advisable that you avoid rash or hasty decisions.
From 9:15 to 10:15, Nifty is likely to be flat or on the up-side, notes Ganesha, a week in advance.
From 10:15 to 10:30, take a small break.
Although the trend during 10:30 to 11:49 is likely to be soft, Nifty shall have some technical support.
From 11:49 to 12.55, Nifty is likely to remain up.
From 12:55 to 13:30, Nifty is likely to remain down.
From 13:30 to 14:01, Nifty is likely to remain up.
Nifty may create an uneven pattern during 14:01 to 14:45.
The trend at Nifty is likely to be flat to down during 14:45 to 15:30.
For detailed personalised prediction email us on stockmarket@ganeshaspeaks.com or call us on +91-9909941816
Gujarati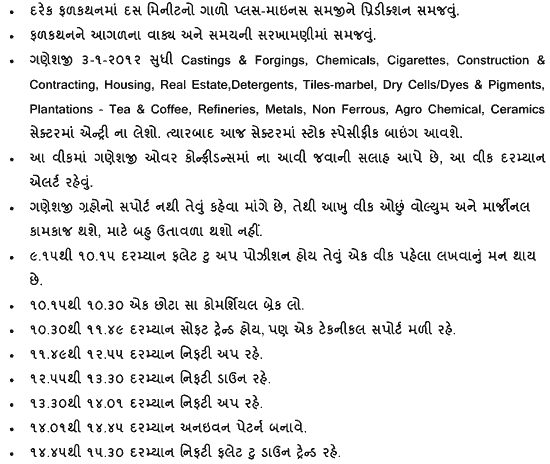 Hindi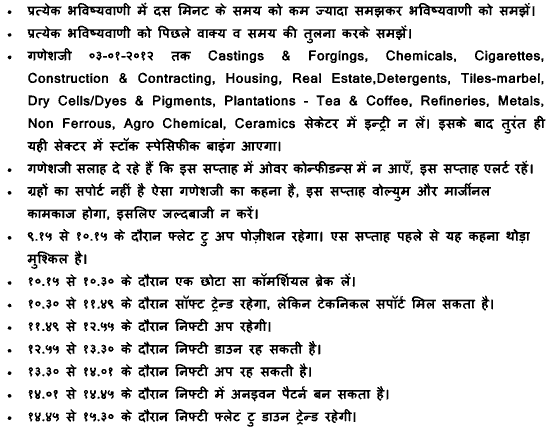 For further details, please contact customer care.
Telephone: 079 65221416
Mobile: +91 – 9909941816
Email: stockmarket@ganeshaspeaks.com