Consider 10 minutes plus and minus in each prediction, and act accordingly.
Ganesha advises you to compare every prediction with the prediction of the previous time slot.
In September, Mars will be highly disturbed. Hence, construction, real estate, marble, red metal, and agro-chemical products will become expensive. To be precise, the period between 15th September and 19th September will be the most crucial. An earthquake cannot be ruled out during this period. And around 23rd September, a natural or man-made disaster is likely.
Mercury is becoming disturbed on 14th, 15th, and 16th of September. Thus, Banks, Nifty, and Telecom may become highly volatile.
The market will remain closed on two days in this week. As there are just three trading days, avoid a long position. For the next week as well, take a position only after observing the circumstances.
Friends, you must have received the September monthly predictions and must have noted the zero weightage for the month. Also, you must have taken note of the history of the zero weightage months. Thus, take a position accordingly and in case you have not received the file, request for one through e-mail.
This week, take a position considering that the 'trend is our friend'.
You must have noted that the high and low figures for the week gone by were very close to those predicted astrologically. This is the strength of astrology. Nifty achieved its predicted 'High' on 23rd August and its 'Low' on 26th August.
Today Moon is in the Magha constellation of the zodiac Leo.
Today Sun is in the Magha constellation of the zodiac Leo.
As Sun and Moon both are in the same navmansha, the strength of the Moon will be undermined.
The time slot after this is very crucial. Ganesha suggests only and only delivery-based work. A very risky period has just begun.
For detailed personalised prediction email us on stockmarket@ganeshaspeaks.com or call us on +91-9909941816


Gujarati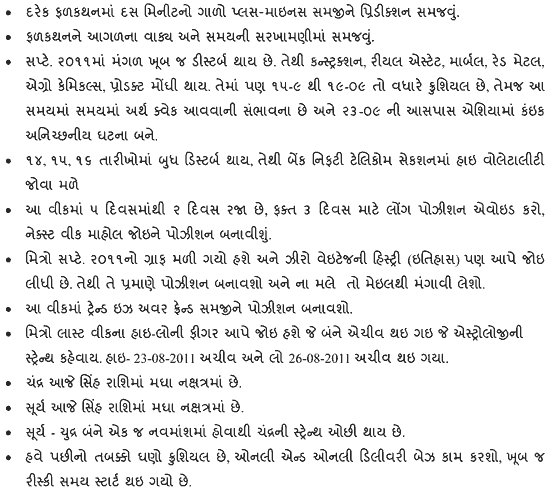 Hindi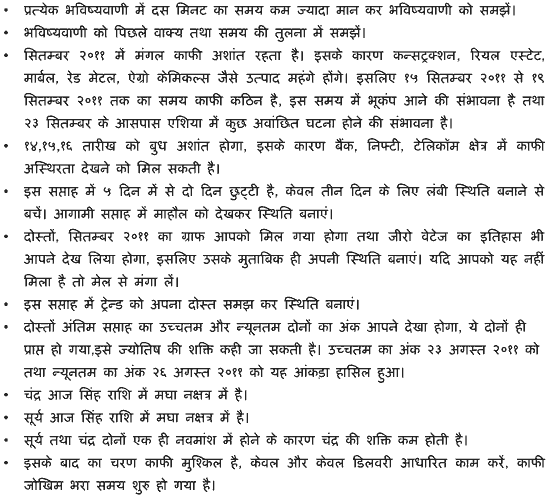 For further details, please contact customer care.
Telephone: 079 65221416
Mobile: +91 – 9909941816
Email: stockmarket@ganeshaspeaks.com