Consider 10 minutes plus and minus in each prediction, and act accordingly.
Ganesha advises you to compare every prediction with the prediction of the previous time slot.
Take a position for the month of August only after 01/08/2011, suggests Ganesha.
You must have seen the minute movement of 2 points in India VIX in the week gone by. Ganesha's predictions are always accurate. He had predicted in the last week that the days will be quite boring. You must have observed that practically.
This year, Ganesha, according to numerology, can see a different combination.
01-01-11, 11-01-11, 01-11-11, 11-11-11
The last two digits of the year of your birth + your age in the current year= 111.
Today, the Moon is in the Mrugsheersh nakshatra of Moon sign Taurus. Venus is currently combusted.
Friends, through the same column, we have told you not to be impatient and avoid taking a position for the next month. Take your position for the month of August only at the beginning of August, there is no need to take a position earlier.
Ganesha says that today the opening gap may be from down. After that, till 11:00, it may trade in a narrow range.
From 11:00 to 12:45- Keeping a strict stop-loss, take a position for intraday.
Practically, Ganesha feels that from 12:45 to 15:30, Nifty will be struggling, the reasons being poor revenue, slow growth, and Marginal compression pressure.

For detailed personalised prediction email us on stockmarket@ganeshaspeaks.com or call us on +91-9909941816


Gujarati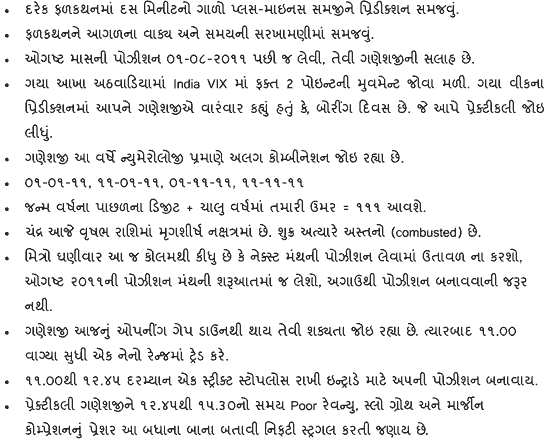 Hindi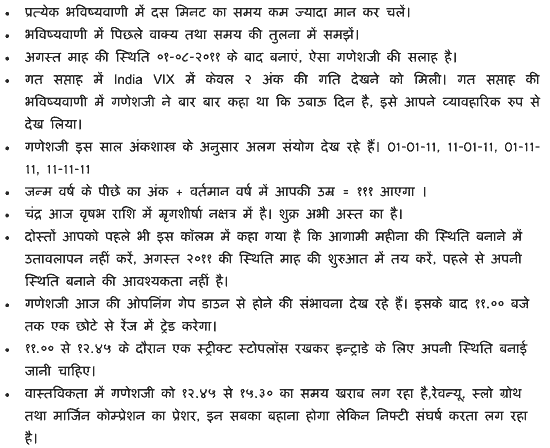 For further details, please contact customer care.
Telephone: 079 65221416
Mobile: +91 – 9909941816
Email: stockmarket@ganeshaspeaks.com