Consider 10 minutes plus and minus in each prediction, and act accordingly.
Ganesha advises you to compare every prediction with the prediction of the previous time slot.
This is the last week of F&O. The market is going to remain closed for a day on the 31st August. So there are less number of days for you to trade. It is advisable that you don't take a major position now, reminds Ganesha.
As said earlier, the market will be closed on 31st August, 2011 on the occasion of Ramzan Eid. Therefore, you should take the position for September 2011 on 1st September, 2011 only. Don't get overexcited unnecessarily as you may end up losing your money. Try to be in a no profit-no loss position instead.
Post noon, Moon will enter into the Moon sign, Cancer.
Today, Moon is in the Purnarvasu Nakshatra.
Moon – Mercury conjunction is going to occur today. Therefore, the market may feel some pressure, foresees Ganesha, one week in advance.
Ganesha dares to put forward the prediction, that too one week in advance, that the Market may be up by 50 points in the next two days. However, make decisions on your own discretion, after all it's the Share Market we are talking about.
From 9:15 to 9:30, Nifty may remain marginal.
From 9:30 to 11:00, Nifty may remain up.
From 11:00 to 11:45, Nifty may remain south.
From 11:45 to 13:00, Nifty may remain up. There may be a small correction around 12:30, though.
From 13:00 to 14:15, Nifty is likely to be down.
From 14:15 to 15:15, Nifty may remain north.
From 15:15 to 15:30, Nifty may remain down with settlement.
For detailed personalised prediction email us on stockmarket@ganeshaspeaks.com or call us on +91-9909941816


Gujarati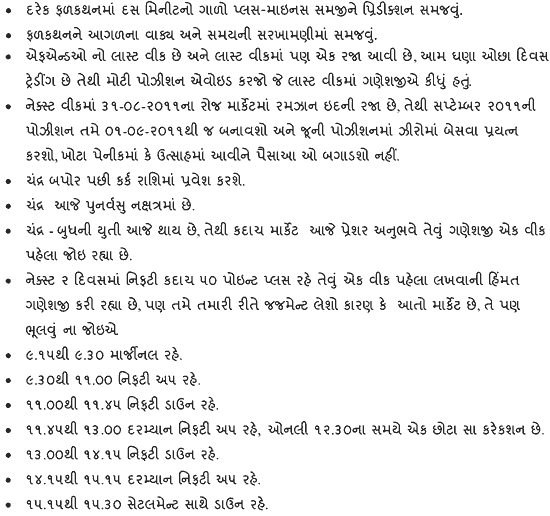 Hindi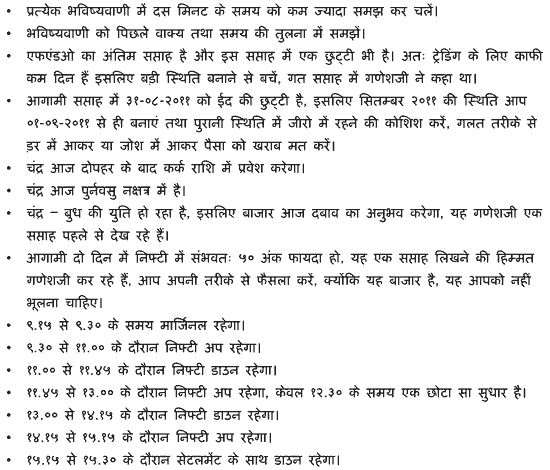 For further details, please contact customer care.
Telephone: 079 65221416
Mobile: +91 – 9909941816
Email: stockmarket@ganeshaspeaks.com