Sensex
touched 18211 on 18-2-11. Was this a numerological miracle?

If
you remember Ganesha had mentioned during the last Friday's
prediction ???It is a day of fundamental Nifty based long term view.
If you suffer blood pressure, do not trade intraday. It is a day
only for arbitrage??? you might have observed this too.

Nifty
has given returns of (-9.09%) in March-2007, (-10.66%) in
March-2008, (-2.1%) in March-2009, (6.91%) in March-2010. It is yet
to be observed what returns it will bear in March-2011. To know
about March-2011 you can get the Nifty projected graph by us through
email.

Do
not do F&O during 09-03-2011 to 17-03-2011. Restrict to stock
specific work.

Thursday
is the last day for F&O this week and next week opens with
budget and Maha-Shivratri falls on 2nd March. Bear this in mind
while you take a position.

You
might have noticed that what Ganesha had predicted last Friday
happened. You got the result in just a day.

9.15
to 9.55: Nifty may hover around the surface.

9.55
to 10.30: Nifty may remain up.

10.30
to 12.15: Nifty traces a third class pattern. Ganesha is very upset.

14.55
to closing bell: Just pass time and stay away even from jobbing.
Discuss the budget and do not start anything new. You may notice the
weightage in the brackets.
For detailed personalised prediction email us on stockmarket@ganeshaspeaks.com or call us on +91-9909941816

Gujarati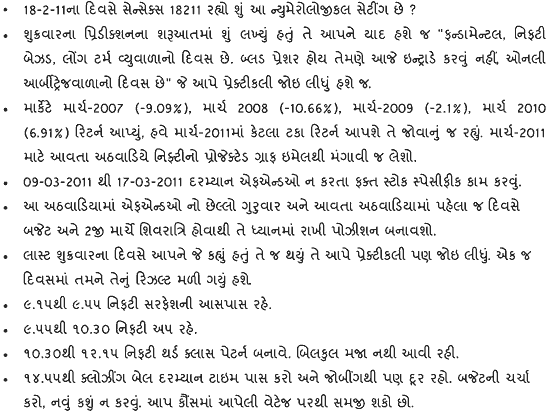 Hindi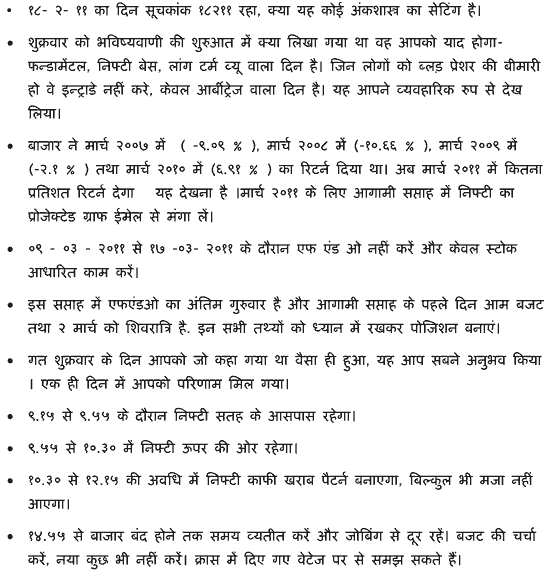 For further details, please contact customer care.
Telephone: 079 65221416
Mobile: +91 – 9909941816
Email: stockmarket@ganeshaspeaks.com