Consider 10 minutes plus and minus in each prediction, and act accordingly.
Ganesha advises you to compare every prediction with the prediction of the previous time slot.
With Ganesha's blessings, we have come up with? Market Predictions 2012, a yearly overview book regarding the stock markets. If you wish to purchase this book, please visit Your Predictions Book and place your order.
Friends, the first time slot mentioned in the Market Predictions 2012 is over. You can check the accuracy of the predictions provided you already have the book with you.
The comprehensive book contains trend changer dates of 2012, personalised Sun Sign predictions along with predictions for major countries of the world. Moreover, Nifty openings and other important dates for the stock market are also mentioned in Market Predictions 2012. All of these predictions are given to you at the beginning of the year, so that you can use this as a tool to sail smoothly throughout the year. However, don't forget to make the most of your skills while trading at Nifty.
Please keep in mind that all the predictions mentioned in this blog are for intraday, and are written one week in advance.
Friends, nobody else but only Ganesha had advised you to keep your actions at Nifty on hold. Perhaps, now you remember the advice.
By the end of January, you would get a chance to exit from the market. If you have been reading the blog regularly, you would have surely gotten a clear idea about that.
Only Ganesha had predicted and mentioned in His blog in advance about the probable panic, negative sentiments that prevailed at Nifty in the recent past and all the confusions. The results were for you to see. You might have also seen those predictions in the Monthly graph and Monthly file. Those of you who may have followed Ganesha's advice might have managed to earn substantial gains or, at the very least, avoid losses.
Friends, here it is extremely important to understand the fact that there usually is some difference between astrology and astronomy. Therefore, a difference of a day or two, or of some degree is going to be inevitable and you have to accept this fact. However, if you don't have the patience to wait and change your strategies accordingly, the current market trends are not for you to trade in. Besides, if you trade on the delivery basis, you are likely to earn profits in 2012. Please read the article that Ganesha had written in October 2009 once again.
Be prepared to do both today – earn profits and incur losses, says Ganesha. You are advised to brace yourself for a risky gamble today.
Ganesha foresees all trends for experimentation in intraday at a small level today.
Three planets, Sun – Moon – Mercury, are in the same Moon sign.
Mercury is of the zero degree today.
From today, Mars goes retrograde in the Moon sign Leo at 29.03.40 degrees.
Ganesha foresees that Nifty is likely to create the English alphabet 'V' shaped graph during 14:20 to 15:30. So, think and decide what you need to do next.
For detailed personalised prediction email us on stockmarket@ganeshaspeaks.com or call us on +91-9909941816

Gujarati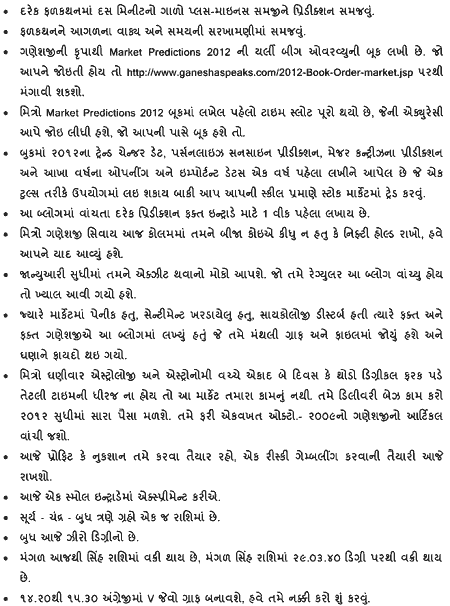 Hindi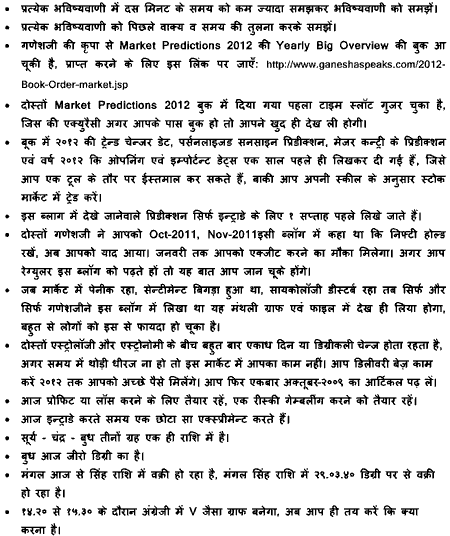 For further details, please contact customer care.
Telephone: 079 65221416
Mobile: +91 – 9909941816
Email: stockmarket@ganeshaspeaks.com