In the predictions for this month, Ganesha had said that Nifty will reach a high of 5625 and a low of 5199 in Monthly Chart. You must have seen the accuracy when, on 3rd June 2011, Nifty reached a high of 5604 and on 20th June, it went as low as 5195. Neither technical nor fundamental tips may have given you such accurate predictions before one Month. It's only Ganesha who, with the help of astrology, can give such precise predictions. Well, this is the strength of astrology.
Consider 10 minutes plus and minus in each prediction, and act accordingly.
Ganesha advises you to compare every prediction with the prediction of the previous time slot.
The scrips of major players like Tata Motors, SBI, Sail, Gail, Hindalco, ONGC, Infosys Tech are playing as low as 52 points.
You have seen the effects of the lunar eclipse in the last week.
Europe seems a little disturbed due to the Greece problem.
Investors may be disappointed by the index in which Reliance is holding on to a weightage of 11.57%.
International agro-production is likely to be low.
Due to the restrictions, GDP rate may remain low.
In case all these news come up during the period of debilitated market, predicted in the annual graph, the market will be all the more sluggish.
As you are a paid customer, you have the yearly graph with you. But, till November you will have to refer to the monthly and daily predictions as well.
You may be referring to the Yearly, monthly, Daily personalised, Technical, Fundamental, and News tips. Ganesha will not like it if you be at loss in spite of all this.
In the times to come, do not trust anybody, as Ganesha foresees unfavourable times.
From 09:15 to 09:30- You may see the same effect on Nifty as that on the global market.
From 09:30 to 10:15- The 'Put value' at Nifty may increase.
From 10:15 to 11:20- There may be buying in the A group shares.
From 14:10 to 15:30- Nifty may maintain surface. But in the end, there may be profit booking. If you do not have the yearly graph, order now!
For detailed personalised prediction email us on stockmarket@ganeshaspeaks.com or call us on +91-9909941816
Gujarati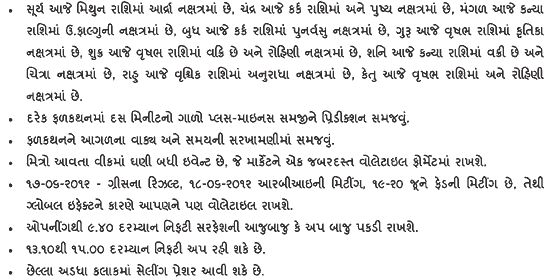 Hindi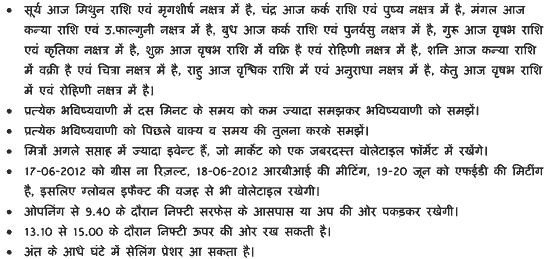 For further details, please contact customer care.
Telephone: 079 65221416
Mobile: +91 – 9909941816
Email: stockmarket@ganeshaspeaks.com