Consider 10 minutes plus and minus in each prediction, and act accordingly.
Ganesha advises you to compare every prediction with the prediction of the previous time slot.
Ganesha had said that the weightage for December 16th 2011 would be zero. And, you must have seen that it turned out to be exactly like that.
The entire week ahead is likely to be crucial for the stock market, which you can see from the number of predictions for each day Ganesha has given you.
Ganesha, one week in advance, predicts that on 21.12.2011, Nifty will create a Doji pattern.
Ganesha advises you not to do intraday post 13:30 on the 21st, 22nd and 22rd December, as there may not be any clear trend during the said time frame.
The graph for today is likely to be what it had been yesterday. However, there may be some value buying today, hopes Ganesha. Be practical and move ahead by taking appropriate decisions.
The period around 10:21 and 14:23 are going to be very important. Ganesha feels that the FIIs may suddenly sell a huge chunk of Nifty stocks around the said period.
For detailed personalised prediction email us on stockmarket@ganeshaspeaks.com or call us on +91-9909941816
Gujarati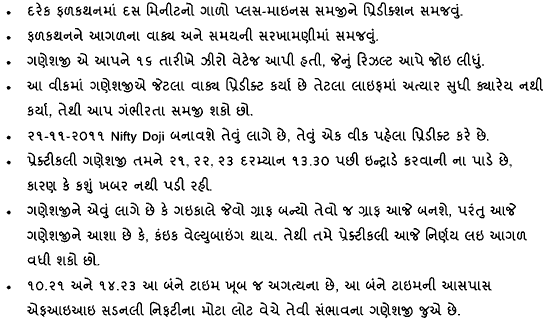 Hindi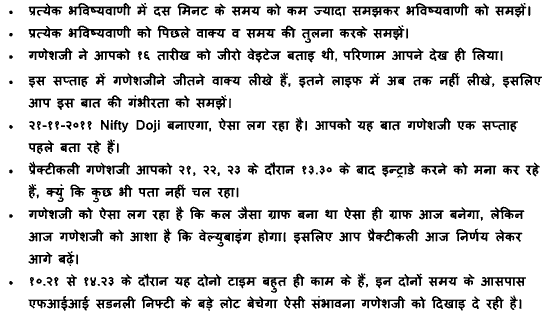 For further details, please contact customer care.
Telephone: 079 65221416
Mobile: +91 – 9909941816
Email: stockmarket@ganeshaspeaks.com