Nifty Predictions, Sensex Nifty, 2011 Market Sensex for 20th January, 2012
Consider 10 minutes plus and minus in each prediction, and act accordingly.
Ganesha advises you to compare every prediction with the prediction of the previous time slot.
Thanks to Ganesha's blessings, we have written and compiled the book Market Predictions 2012, which contains the larger overview for the year 2012. You can click on the given link to order this extremely useful book –  Your Predictions Book
Dear friends, the first time slot given in the book Market Predictions 2012 has just gotten completed. You will be able to see how accurate it turned out to be, if you already have the book.
In the book 2012, you will get the 2012 trends for stock markets, personalised sun sign predictions for career and finance, predictions on major industries, stock market opening of the entire year and important dates for the whole year.  All this and more is being provided to you a year in advance in this book – employ this as a useful tool, and augment the insights with your skills, knowledge and personal discretion while trading.
Friends, January 2012 will be the deciding factor in determining as to how the entire year 2012 shall be. You can view this from the given graph as to how January 2012 will turn out to be, and that you will need to be very careful owing to the same.
Please keep in mind that all the predictions mentioned in this blog are for intraday, and are written one week in advance.
For the entire next week, buy call and put options within a +200 and -200 range from the closing price of the stocks. In other words, you are advised to do hedging, says Ganesha. It is going to be an absolutely boring week for intraday. Now matter how much you struggle to earn profits, you are least likely to earn even a single penny.
There may be temporary fluctuations in the scrips of TAXMACO RAIL & ENGEINEERING, TITAGARH WAGONS LTD., Kalindee Rail Nirman (Engineers) Ltd and KERNEX MICROSYSTEMS (INDIA) LTD. Therefore, you are advised not to take any long positions in these sectors.
2012 Predictions for UK
Under the watchful eye of the Chitra Star in the Pratyari Tara, Saturn will transit between Virgo and Libra until end August 2012, a motion which indicates a tough period for the legislative members and business groups in UK.
There is also a possibility that in UK public health and national resources may come under scanner. UK's strained foreign relations may also lead to international disputes.
Transiting Pluto will be retrograde, and will be conjunct with the Sun, which could trigger reformist activism in the form of organized crime against women and collective psychotic outbreaks.
2012 Predictions for Italy
Mars is the Lord of the the 2nd House (House of Finance) and the 7th House (House of International Liaisons). In Italy's chart, Mars is posited in the 11th House in Leo, which could revitalize the functioning of the country.
Mercury is in its own house, and will be a plus point for communication and commerce in Italy's natal chart.
Ketu's presence in the 2nd House in the natal chart is a cause for concern, as it coincides with Rahu's transit through Scorpio. This is a negative sign for loans and credit facilities, indicating a heavy outflow of currency from the country's coffers. The financial situation may not be expected to improve any-time soon, as the planetary aspects continue to be detrimental.
Saturn makes rapid transits through Libra and Virgo, and then again through Libra, which will incite indiscipline, frustration, and discontent, and may harm Italy's public image.
Gujarati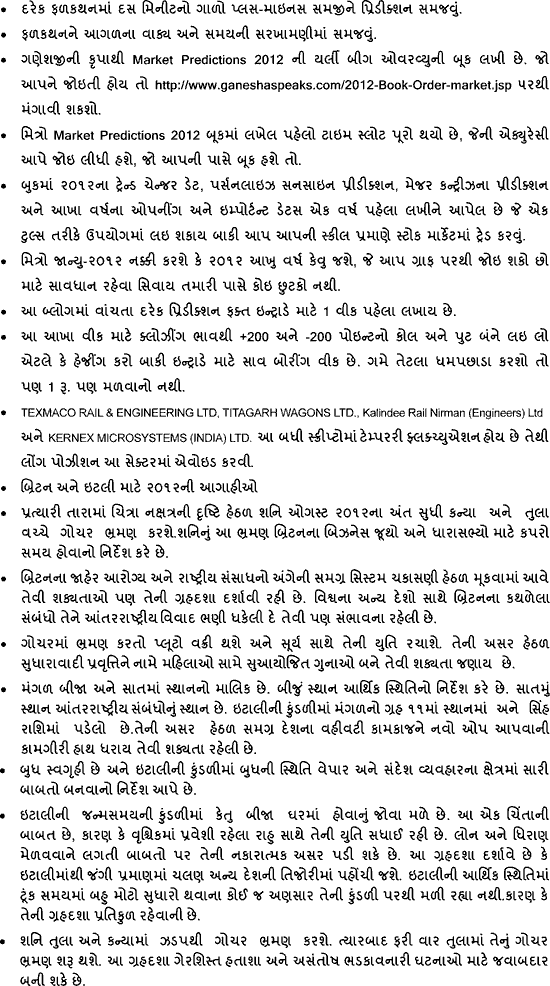 Hindi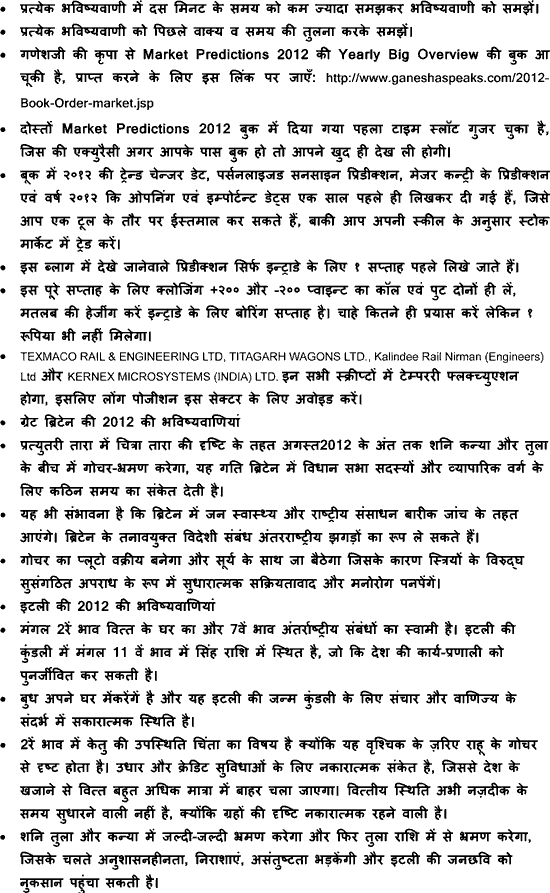 With Ganesha's Grace,
Dharmeshh Joshi,
09909941816
www.GaneshaSpeaks.com