Nifty Predictions, Sensex Nifty, 2011 Market Sensex for 1st June, 2011
Astrological View for the Month of June '11
Nifty High in the month of June '11 = 5625
Nifty Low in the month of June '11 = 5199
Technical View for the Month of June '11
R1-5444 : S1-5347
R2-5492 : S2-5299
R3-5540 : S3-5251
R4-5685 : S4-5106
Fundamental challenge for the Month of June '11
Global economic recovery & crude oil prices have gone up
Monsoon assumption unclear
Banking sector interest rates are up
URO Zone Problem
Diesel Price Hike V/S Inflation rise also Rs. 3-4 per liter in diesel prices and Rs. 30 increase in LPG is expected to happen soon. (09-06-2011 Meeting )
Food inflation shot up to 8.55% last week, the highest level in four weeks.
Very active dates with wide fluctuations and high volatility for the month of June are: 1, 2, 7, 10, 15, 16, 17, 21, 23.
On Wednesday, 15-06-2011 there will be a lunar eclipse. As the eclipse is taking place in Jyeshtha nakshatra, all those with Anuradha, Jyeshtha, and Mool nakshatra need to be very careful. Whatever is meant to happen will happen, but Ganesha is here to guide you through the difficult times.
You may be receiving tips that give you 3 supports and 3 resistant levels and claim 100% accuracy. And then, as you may come across loss in the market, you may receive tips that may give you new targets and new stop-loss figures. Well, this is not possible through astrology. Astrology can give you an idea of the trend and the possibilities in the times to come. Use it as a tool and make the most of the predictions.
At their individual level, everyone is right. But everyone has some limitations and some skills. Ganesha hopes that you will keep them in mind, and make as many profits as possible.
Today's day may be a little drab, says Ganesha.
In the next three days don't even think of doing BTST and PTST. All your calculations may go upside down in the opening itself.
From 13:15 to 13:55- Nifty may go up marginally.
13:55 till the closing bell- In the beginning, there may be selling pressure at Nifty and then it has the capacity to go up.
Gujarati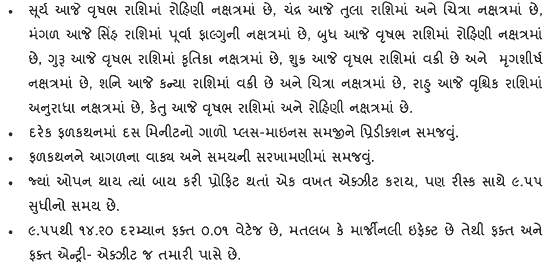 Hindi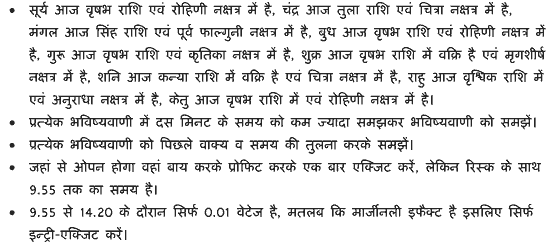 With Ganesha's Grace,
Dharmeshh Joshi,
09909941816
www.GaneshaSpeaks.com