On 21-02-2011 and 07-03-2011 Ganesha had repeated time in again that the market will take a down trend and thus to maintain position accordingly. Now if you don't listen to predictions, what can Ganesha do!
On 21-02-2011 Ganesha had discussed what had happened in the month of march during 2007, 2008, 2009, 2010. Ganesha doesn't know what inferences you may have drawn from the same.
Ganesha advises you strictly abstain from intraday trading during this week. You may observe a third class pattern every day of the week. It seems to be a gambling week for the arbitrage houses, mutual funds and FIIs.
The predictions that you see daily on the blogs are made a week in advance and you can get them as a PDF file.
For people involved in Dabba Trading or playing double with less margins, it is a day to square-off.
Pre-open will be dual minded, there is no clear trend.
From opening to 10.38: Nifty will remain soft.
10.38 to 11.20: Nifty will remain up.
14.36 to 15.30: There may be buying in particular scripts during this time. You can do news based work.
For detailed personalised prediction email us on stockmarket@ganeshaspeaks.com or call us on +91-9909941816
Gujarati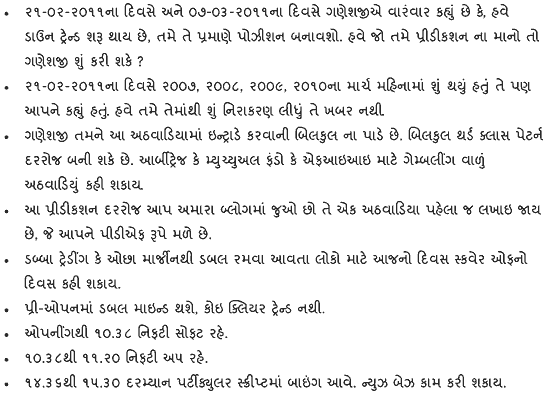 Hindi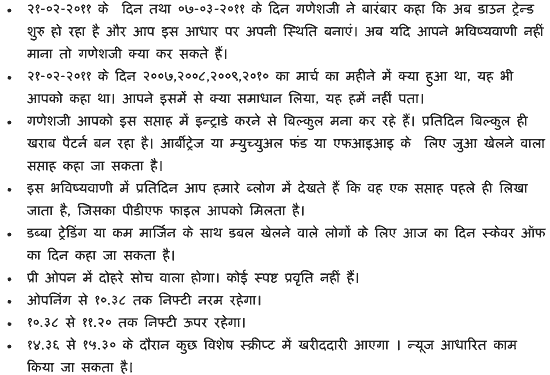 For further details, please contact customer care.
Telephone: 079 65221416
Mobile: +91 – 9909941816
Email: stockmarket@ganeshaspeaks.com