Consider 10 minutes plus and minus in each prediction, and act accordingly.
Ganesha advises you to compare every prediction with the prediction of the previous time slot.
The dull patch at the Nifty is likely to continue this week as well, predicts Ganesha. You will be going around in circles and most of your activities may not yield desired results.
From 17.11.2011, Nifty may form a doji (marginal closing), foresees Ganesha, a week in advance.
The Stock Markets across the world have been experiencing plenty of challenging situations in past few months. This is likely to continue in the days to come. The results are visible on Indian Stock Markets as well. For your reference, Ganesha gives you a bird's eye view of the reasons that may have lead to the present challenging situation.
The Index of Industrial Productions (IIP) came down to 1.9% in September 2011.
Italy has been facing a financial crisis.
A Global ratings firm- Moody's has downgraded banking rating of India from stable to negative. The executives of Moody's had a meeting with the Indian Finance Minister regarding this issue on 14 September, 2011.
The Corporate Quarter Results have not been encouraging.
Following are some special updates on planetary transits –
Mars is a planet which remains in one zodiac sign for 45 days. But, this time, Mars will be in the zodiac Leo for six months i.e. from 31.10.2011 to 21.06.2012. As a result, people with Moon sign Leo may become aggressive.
From 16.11.2011 onwards Saturn will be in the zodiac Libra. Thus, the inauspicious period (panoti) ends for the people with Moon sign Leo. However, if your Moon sign is Scorpio, you may have to face hardships for the next 7.5 years, as your inauspicious time (panoti) begins.
It's probable that the people with Moon sign Libra may be facing the negative impact of this Saturn transit, says Ganesha. There are remedies which may help them. Ganesha advises such people to remain patient. They should avoid taking up new challenges or risks at the moment.
However, Ganesha feels that from 17.11.2011 onwards, the overall yearly view is going to get better and positive with time.
Today, Moon is in Pushya constellation in the Moon sign Cancer.
Today, Sun will enter in the Moon sign Scorpio. Therefore, Sun, Mercury, Rahu and Venus – all the four planets will be in the same place.
Suggested Remedies – You can follow remedial measures, as mentioned below, to overcome the effects of this transit.
Take a leaf from the Peepal tree. Put vermilion and sesame on the leaf. Light a lamp (diya) with mustard oil in it. Place all these items under a Peepal tree before sunrise. Do the same for seven consecutive Saturdays, and see the result.
Keep a square-shaped silver piece in your pocket.
In your left hand wear a ring made out of silver.
Chant the following mantra:
NILANJANA SAMA BHASAM RAVIPUTRAM YAMA GRAJAM ||
CHHAAYA MARTANDA SAMBHOOTAM TAM NAMAMI SHANAISHCHARAM ||
Contact Mr. Akshay Maradia for ordering 'Sade-Sati yantra' and 14 mukhi rudraksh to lessen or nullify the negative effects of Saturn.
Stock Predictions
Nifty is going to create a doji formation today. Ganesha has already predicted about it. So, do only jobbing today.
The day is quite confusing, feels Ganesha. The day may be dedicated to intraday.
From 9:15 onwards, there will be a change in the trend at Nifty after every 30 minutes. Nifty is going to be like this till 13:00. It's best left on you to decide your course of action in these circumstances, points Ganesha. Use your judgement.
From 13:00 to 13:20, the weightage for this period is zero. Therefore, have a look at the global indicator right now for a better perspective, says Ganesha.
From 13:20 to 14:30, Nifty may take a downward trend.
During the last one hour of the trading session, Nifty shall show an overall positive mood. All is well, hopes Ganesha!
For detailed personalised prediction email us on stockmarket@ganeshaspeaks.com or call us on +91-9909941816
Gujarati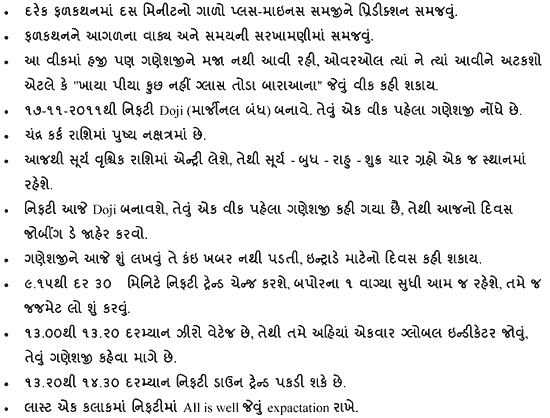 Hindi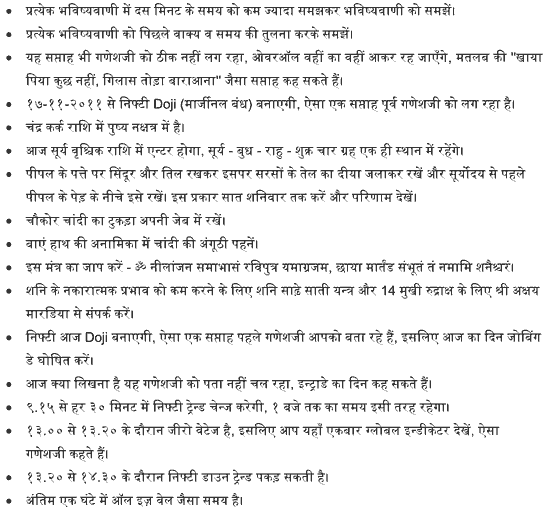 For further details, please contact customer care.
Telephone: 079 65221416
Mobile: +91 – 9909941816
Email: stockmarket@ganeshaspeaks.com