Consider 10 minutes plus and minus in each prediction, and act accordingly.
Ganesha advises you to compare every prediction with the prediction of the previous time slot.
This month, keep booking profit and loss every week, advises Ganesha.
The challenges during this week:
The inflation is now 9.01%
IIP growth has plunged to 6.3%
China's trade balance may go down
There may be a 31% loss in Toyota's net profit
Home loan rates may increase
On 20th, 21st, and 22nd June, Ganesha gives you a chance to exit the market.
After 23-06-2011 Nifty may go down but Ganesha can not forecast the number of points by which it may go down. The investors who want to invest should first wait and watch and only then make further plans.
For Call-put, Ganesha advises you to avoid any position.
Ups and downs will always be there at Nifty, but Ganesha will surely give you an opportunity; do not get too excited or depressed. Ganesha is giving you the predictions 15 days in advance; do not blame Ganesha if He forgets to remind you later.
From 09:15 to 11:10 Apart from one correction, Nifty will remain up. (0.08)
From 11:10 to 14:25 Nifty will make a 'W' shaped graph. (0.03)
Be very careful next week onwards. Ganesha's blessings are always with you.

For detailed personalised prediction email us on stockmarket@ganeshaspeaks.com or call us on +91-9909941816


Gujarati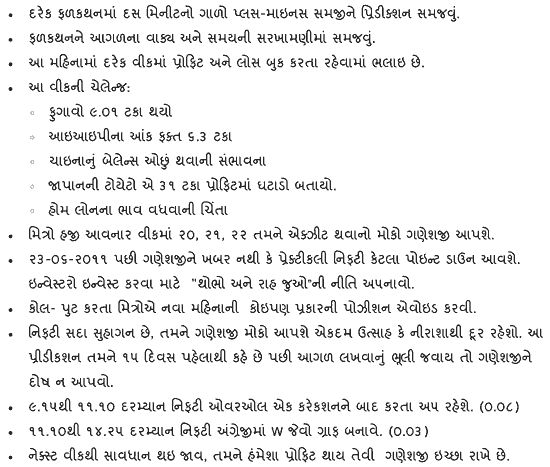 Hindi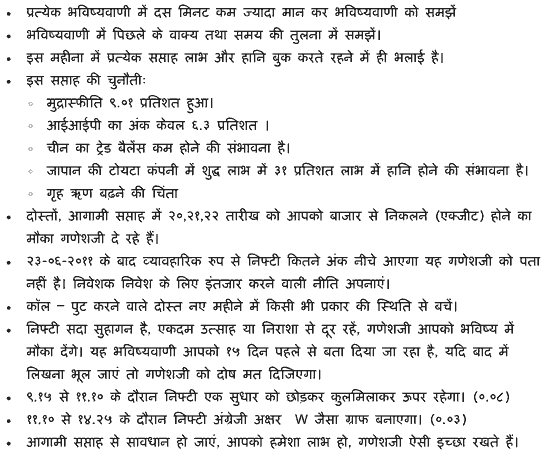 For further details, please contact customer care.
Telephone: 079 65221416
Mobile: +91 – 9909941816
Email: stockmarket@ganeshaspeaks.com