Consider 10 minutes plus and minus in each prediction, and act accordingly.
Ganesha advises you to compare the next prediction with the prediction of the previous time slot.
The
daily prediction, which you refer to, has been written a week in
advance. So, take its optimum advantage.

High
volatility and wide fluctuation dates in January: 3 (23.10), 4
(solar eclipse) (-11.25), 5 (-66.55), 7 (-143.65), 11, 12, 18, 24,
27, 31

Ganesha
hopes that you would take the best advantage of the tips given to
you through SMS.

Today,
Moon will transit in the Mrugshirsh constellation of the Zodiac
Taurus.

Infosys
prediction results are yet to be announced while the predictions are
being done. Ganesha is predicting this nine days in advance.

From
the opening till 10:40, the market is likely to be between flat and
negative, and Nifty will hover around the surface.

From
14:20 till the closing bell, Nifty may go up in the initial
half-an-hour and later it may go through sudden selling pressure.
For detailed personalised prediction email us on stockmarket@ganeshaspeaks.com or call us on +91-9909941816
Gujarati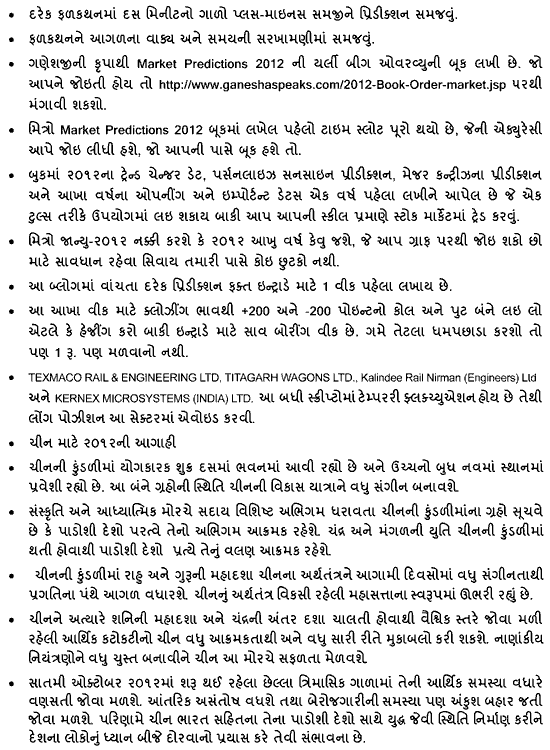 Hindi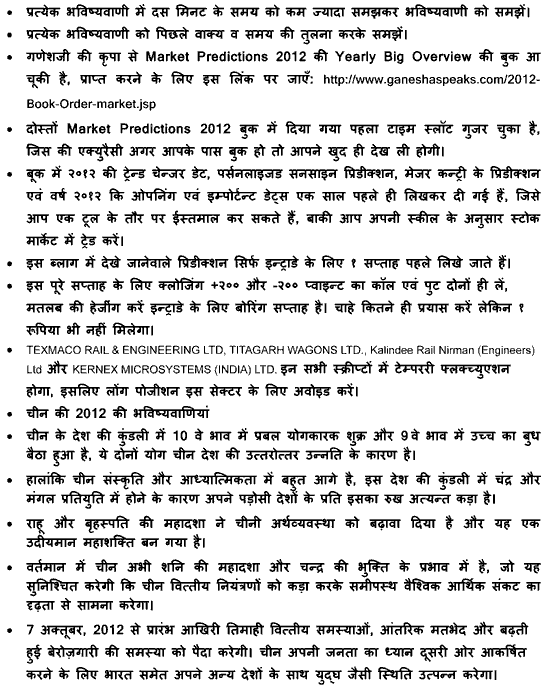 For further details, please contact customer care.
Telephone: 079 65221416
Mobile: +91 – 9909941816
Email: stockmarket@ganeshaspeaks.com