Consider 10 minutes plus and minus in each prediction, and act accordingly.
Ganesha advises you to compare every prediction with the prediction of the previous time slot.
In September, Mars will be highly disturbed. Hence, construction, real estate, marble, red metal, and agro-chemical products will become expensive. To be precise, the period between 15th September and 19th September will be the most crucial. An earthquake cannot be ruled out during this period. And around 23rd September, a natural or man-made disaster is likely.
Mercury is becoming disturbed on 14th, 15th, and 16th of September. Thus, Banks, Nifty, and Telecom may become highly volatile.
Friends, you must have received the September monthly predictions and must have noted the zero weightage for the month. Also, you must have taken note of the history of the zero weightage months. Thus, take a position accordingly and square off the position daily. Ganesha has been giving this advice since August; hope you are taking it seriously.
From this week, Mars and Venus are transiting in a debilitated Moon sign. This may not be favourable for the personal horoscope.
The market is working in the same way as mentioned in the monthly and daily predictions and we have even received appreciation calls for our accurate predictions.
But it is really very difficult to predict for this week.
The Moon is in the Ashwini constellation of the Moon sign Aries.
Ganesha is now looking for new support. To mention it again, Ganesha is not at all enjoying the period.
It is a very crucial time in the market today, and hence, Ganesha has predicted small time frames. If the market goes up and down as predicted, well and good but there is a possibility that it may even be a one-sided affair.
Predicting is a very difficult task during this unfavourable period.
Today, Ganesha advises you to use your sixth sense while you trade. Do not trust anyone or depend on anyone.
The trend may change every half an hour.
09:15 to 09:30- Nifty may hover around the surface or may be up.
From 09:30 to 10:15- Nifty is likely to go south.
From 10:15 to 11:20- Overall an upward trend may be observed. There may be a correction somewhere in the middle.
From 11:20 to 12:35- Nifty may remain down.
From 12:35 to 13:42- Nifty may remain up.
From 13:42 to 13:58- Nifty is likely to remain south.
From 13:58 to 14:37- Nifty may remain north.
From 14:37 to 14:55- Nifty is likely to stay down.
From 14:55 to 15:30- There is a possibility of a pull back, predicts Ganesha, one week in advance.
For detailed personalised prediction email us on stockmarket@ganeshaspeaks.com or call us on +91-9909941816


Gujarati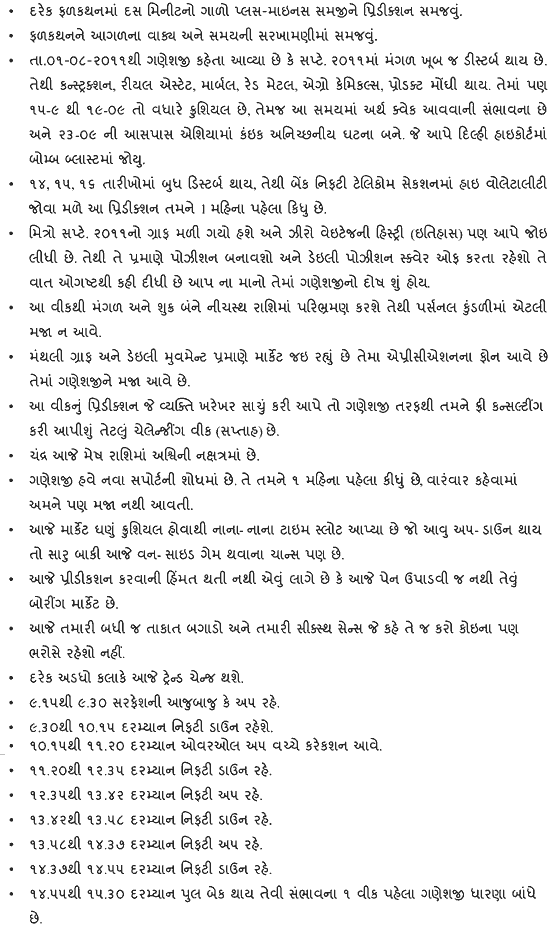 Hindi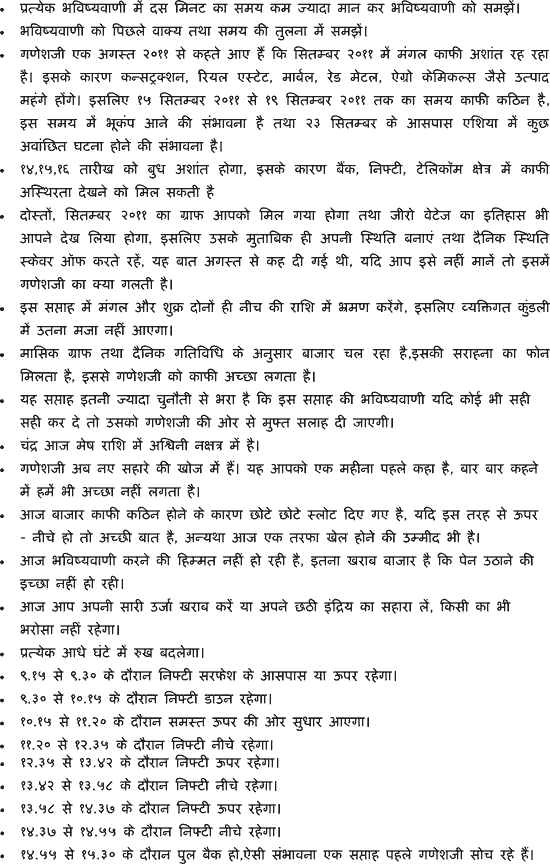 For further details, please contact customer care.
Telephone: 079 65221416
Mobile: +91 – 9909941816
Email: stockmarket@ganeshaspeaks.com