Consider 10 minutes plus and minus in each prediction, and act accordingly.
Ganesha advises you to compare every prediction with the prediction of the previous time slot.
The dull patch at the Nifty is likely to continue this week as well, predicts Ganesha. You will be going around in circles and most of your activities may not yield desired results.
From 17.11.2011, Nifty may form a doji (marginal closing), foresees Ganesha, a week in advance.
The Stock Markets across the world have been experiencing plenty of challenging situations in past few months. This is likely to continue in the days to come. The results are visible on Indian Stock Markets as well. For your reference, Ganesha gives you a bird's eye view of the reasons that may have lead to the present challenging situation.
The Index of Industrial Productions (IIP) came down to 1.9% in September 2011.
Italy has been facing a financial crisis.
A Global ratings firm- Moody's has downgraded banking rating of India from stable to negative. The executives of Moody's had a meeting with the Indian Finance Minister regarding this issue on 14 September, 2011.
The Corporate Quarter Results have not been encouraging.
Following are some special updates on planetary transits –
Mars is a planet which remains in one zodiac sign for 45 days. But, this time, Mars will be in the zodiac Leo for six months i.e. from 31.10.2011 to 21.06.2012. As a result, people with Moon sign Leo may become aggressive.
From 16.11.2011 onwards Saturn will be in the zodiac Libra. Thus, the inauspicious period (panoti) ends for the people with Moon sign Leo. However, if your Moon sign is Scorpio, you may have to face hardships for the next 7.5 years, as your inauspicious time (panoti) begins.
It's probable that the people with Moon sign Libra may be facing the negative impact of this Saturn transit, says Ganesha. There are remedies which may help them. Ganesha advises such people to remain patient. They should avoid taking up new challenges or risks at the moment.
However, Ganesha feels that from 17.11.2011 onwards, the overall yearly view is going to get better and positive with time.
Today, Moon is in Punarvasu constellation.
From today onwards, Saturn is beginning its transit into the Moon sign Libra. You can practice following measures to please and placate the mighty Saturn.
In the personal horoscope today, the conjunction of Sun and Saturn is not favourable. Therefore, don't be surprised if the market doesn't operate in a particular desired direction. Ganesha had already sent you the prediction about the same last week.
Suggested Remedies
Feeding the hungry, needy or poor near a temple or donating money to the poor or needy on Saturday evening may work in your favour.
Observing a fast on Saturdays, especially during the inauspicious period (panoti major or minor) may help you sail through during tough times.
Chant the 'Shani Beej mantra' on Saturdays: Aum Sham Shaneshwaraya Namah!
Reading Sundar Kand, Hanuman Chalisa, Mahamrityunjaya, Shani Strot or Shani Mantra shall give you inner strength.
Donate coconuts and peanuts in temples. And if it is feasible, donate items that are favoured by (Lord) Shani; items like sesame, oil, articles made of iron, salt, coins, black clothes, blanket, shoes, umbrella can be given as donations. If possible, the number of pieces of the item you are donating should be 8. For instance you may offer 8 litres of oil, 8 kgs of salt etc.
Wear a ring made out of horseshoe or a boat's nail. This ring should be worn in the middle finger.
Stock Predictions
From 9:15 to 11:27, Nifty is not likely to create a proper pattern. The pattern will most likely not have a stable base during this period.
From 11:27 to 12:39, considering one correction, Nifty is likely trade slightly on the up side.
12:39 to 12:51, Ganesha advises you take a break for a small period. Even Nifty may seem to be taking rest during this time.
12:51 to 13:27, Nifty will gradually and step-by-step go down.
13:27 to 14:50, Nifty is likely to keep gambling within a particular range only, without much movement.
14:50 to till last transactions, Nifty may create a reverse pattern and is likley to trade upwards.
For detailed personalised prediction email us on stockmarket@ganeshaspeaks.com or call us on +91-9909941816

Gujarati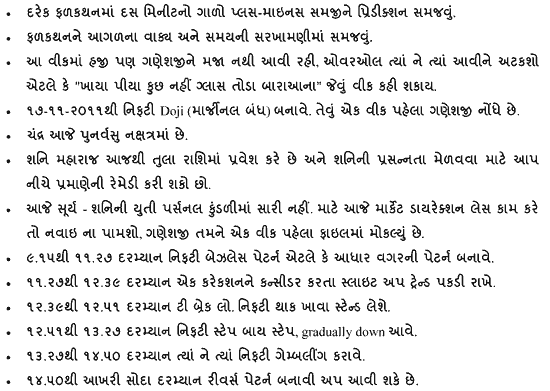 Hindi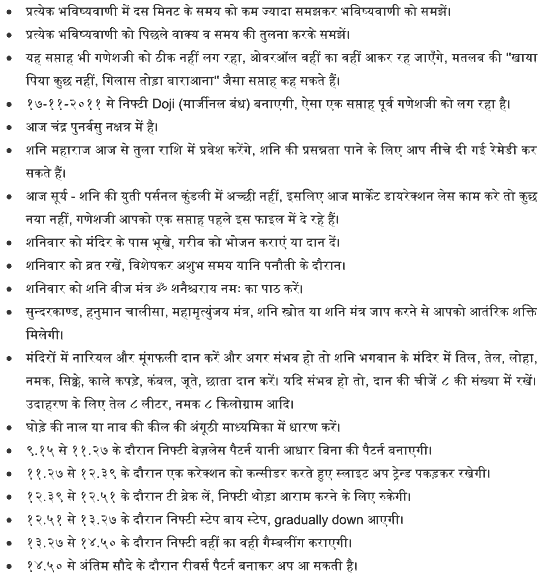 For further details, please contact customer care.
Telephone: 079 65221416
Mobile: +91 – 9909941816
Email: stockmarket@ganeshaspeaks.com