Consider 10 minutes plus and minus in each prediction, and act accordingly.
Ganesha advises you to compare every prediction with the predictions of the previous time slot.
As the market will remain closed on 15th August – Independence Day, the week will have four working days. Thus, avoid making a major position during this week.
The F&O expires in the coming week, and as always it is a crucial period. You have less number of days in the coming two weeks, and a lot needs to be done within a short period.
Ganesha advises you to look long-term, and make a position in the way you will create for September 2011, and you get 1.5 months. And, even if you square off this in August 2011 itself, it will be fine.
In the coming week, India VIX is likely to go down by 25.00 points, and Nifty may become steady, hopes Ganesha.
The prediction which is currently displayed on your screen has been written one week in advance, considering mainly the astrological aspects. Ganesha does not take any much consideration of the aspects related to Crude Oil, Global Market, Inflation, Gold, Silver, Tips or News.
Ganesha is worried, as the market is likely to remain volatile from 14-10-2011 to 07-11-2011. Order the monthly graph for this period now via email, as Ganesha may not be able to remind you again of the same.
Today the Moon is in the zodiac Aquarius of the Poorvabhadrapada Nakshatra.
Sun-Venus are in the same navmansh.
9:15 to 9:45- Nifty may hover around yesterday's closing to downside.
Technically speaking, Nifty is likely to get a Doji i.e. marginal closing today, feels Ganesha.
Nifty may take a big jump in the next two or three days, feels Ganesha.
9:45 to 11:35- There may be a cut on the upper side at Nifty.
Although you may make efforts to take a jump between 11:35 and 14:35, you may not earn any profit. However, a good script may help you to gain through intraday.
14:35 to 15:30- There may be a slight, but gradual, recovery at Nifty during this time frame.
For detailed personalised prediction email us on stockmarket@ganeshaspeaks.com or call us on +91-9909941816
Gujarati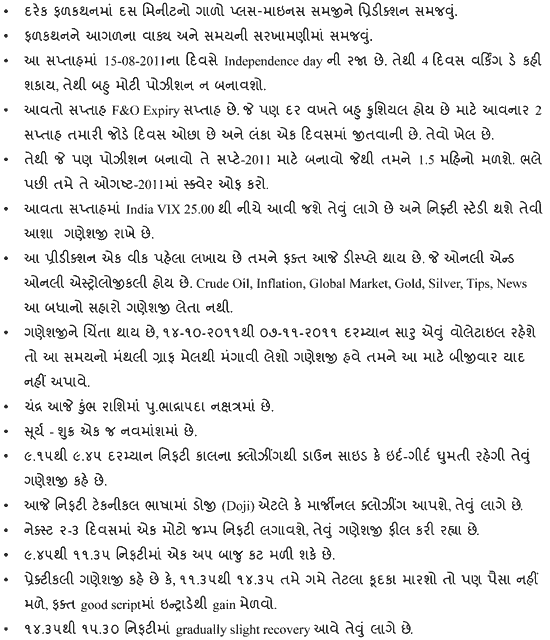 Hindi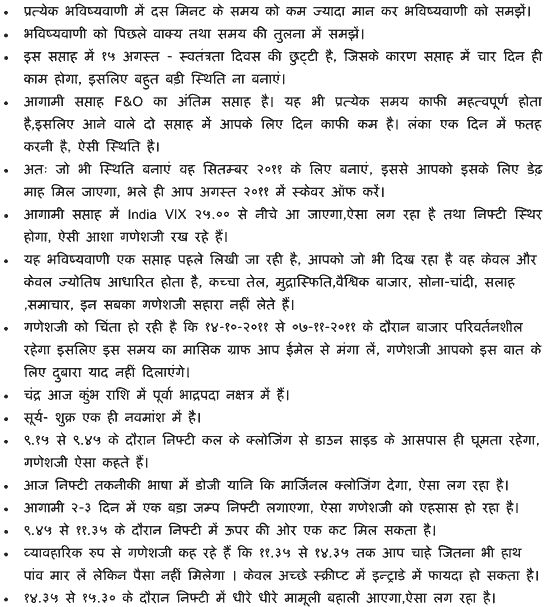 For further details, please contact customer care.
Telephone: 079 65221416
Mobile: +91 – 9909941816
Email: stockmarket@ganeshaspeaks.com