Consider 10 minutes plus and minus in each prediction, and act accordingly.
Ganesha advises you to compare every prediction with the prediction of the previous time slot.
This month, keep booking profit and loss every week, advises Ganesha.
The challenges during this week:
The inflation is now 9.01%
IIP growth has plunged to 6.3%
China's trade balance may go down
There may be a 31% loss in Toyota's net profit
Home loan rates may increase
As oil and petrol rates may increase on 16-06-2011, the bank rate may increase by 0.25 basis points
You may have received the monthly file with the astro-graph, technical, fundamental view, resist and support level for the month of June.
You may also have received the file describing how the Lunar eclipse will affect certain sectors and all the moon signs. It's only Ganesha who gives you such accurate predictions, isn't it?
It has been seen that on the day of eclipse, predictions of even experts go wrong. You are thus advised to be careful on the day before and after the eclipse, as it is your money which is at stake.
10:15 to 10:40, 11:50 to 12:35, and 13:15 to 13:45- During these time slots, as compared to the previous time there may be some correction. Other than that, Nifty will make you play.
As there is an eclipse taking place today, Ganesha advises you to avoid intraday without delivery strength.

For detailed personalised prediction email us on stockmarket@ganeshaspeaks.com or call us on +91-9909941816


Gujarati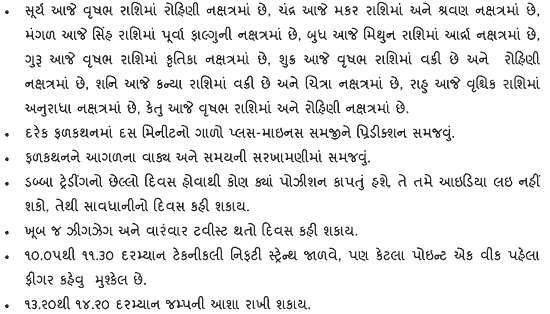 Hindi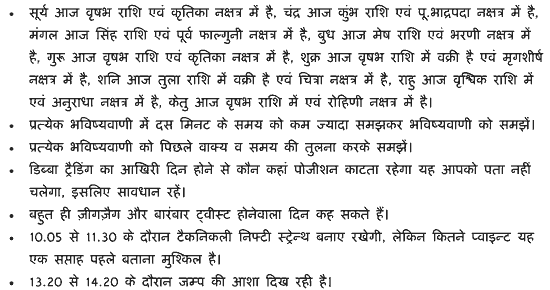 For further details, please contact customer care.
Telephone: 079 65221416
Mobile: +91 – 9909941816
Email: stockmarket@ganeshaspeaks.com