Consider 10 minutes plus and minus in each prediction, and act accordingly.
Ganesha advises you to compare every prediction with the prediction of the previous time slot.
Read the monthly note carefully. Either trade daily or square-off your position every third day. Now you know why Ganesha predicted this in advance, because there is no clear trend.
Textiles, sugar and aviation sector may do news-based work. Ganesha believes that you may have to wait to get long-term profits or gains.
The coming week is very crucial as monthly inflation figures are expected, along with quarterly results of TCS and Infosys.
Today the moon is in the Uttarashadha nakshatra whose Lord is the Sun.
Today onwards Venus is combusted.
Today, on the occasion of Gurupoornima, Ganesha advises you to worship your Guru. You can even chant the mantra 'Om Gam Guruvay Namah:' while trading.
Friends, Ganesha advises you to always remember: Avoid F&O during the first two days of the month and last four days of the month. Take a fresh position during the middle of the month, or the FII may take all the money and all you may be left with is the contract note.
With the grace of Ganesha, at about 10:00am there may be buying in the large cap stocks.
15:10 to 15:30- there may be settlement trade, which may show a slightly positive movement, but astrologically, it is difficult to say by how many points.

For detailed personalised prediction email us on stockmarket@ganeshaspeaks.com or call us on +91-9909941816


Gujarati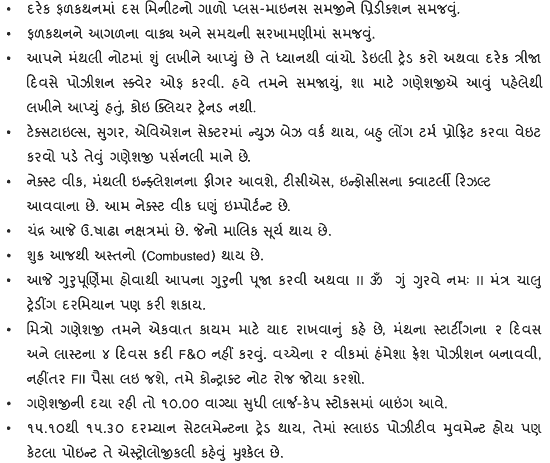 Hindi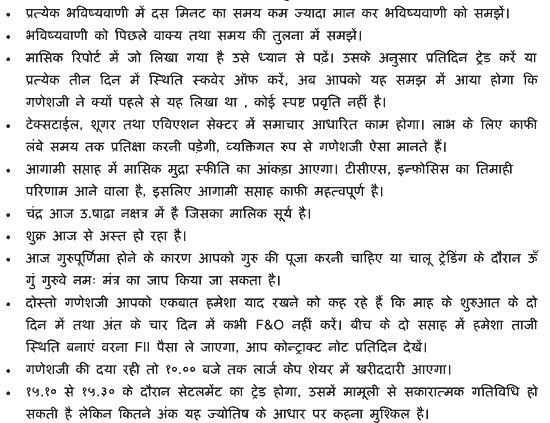 For further details, please contact customer care.
Telephone: 079 65221416
Mobile: +91 – 9909941816
Email: stockmarket@ganeshaspeaks.com