Consider 10 minutes plus and minus in each prediction, and act accordingly.
Ganesha advises you to compare every prediction with the prediction of the previous time slot.
Please keep in mind that all the predictions mentioned in this blog are for intraday and are written one in week in advance.
Today, Moon is in the Vishakha constellation.
Today, Sun is entering the Moon sign Aquarius at zero degree.
Ganesha foretells that there may not be major setbacks at Nifty during the first 45 minutes.
From 10:00 to 11:00, Ganesha foresees a lacklustre period. Avoid trading during this phase.
From 11:00 to 11:40, there may be buying in the A Group stocks.
From 11:40 to 13:00, it is likely to be a completely dull period at Nifty, as the trend is likely to be negative.
For the next 2.5 hours from 13:00, you may get to see a peek as well as a dip at Nifty. However, as compared to the previous phase, Nifty may experience a jump or two around 13:15 and 15:03, says Ganesha.
For detailed personalised prediction email us on stockmarket@ganeshaspeaks.com or call us on +91-9909941816

Gujarati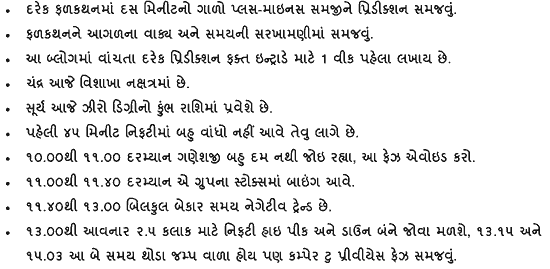 Hindi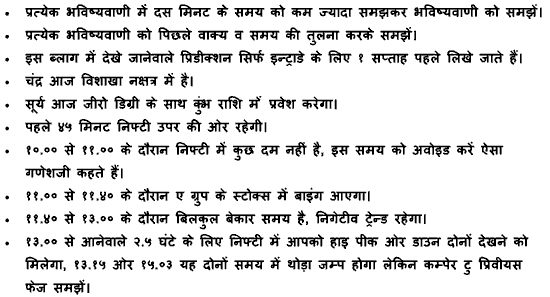 For further details, please contact customer care.
Telephone: 079 65221416
Mobile: +91 – 9909941816
Email: stockmarket@ganeshaspeaks.com