Consider 10 minutes plus and minus in each prediction, and act accordingly.
Ganesha advises you to compare every prediction with the prediction of the previous time slot.
Thanks to Ganesha's blessings, we have written and compiled the book Market Predictions 2012, which contains the larger overview for the year 2012. You can click on the given link to order this extremely useful book – Your Predictions Book
Dear friends, the first time slot given in the book Market Predictions 2012 has just gotten completed. You will be able to see how accurate it turned out to be, if you already have the book.
In the book 2012, you will get the 2012 trends for stock markets, personalised sun sign predictions for career and finance, predictions on major industries, stock market opening of the entire year and important dates for the whole year. All this and more is being provided to you a year in advance in this book – employ this as a useful tool, and augment the insights with your skills, knowledge and personal discretion while trading.
Friends, January 2012 will be the deciding factor in determining as to how the entire year 2012 shall be. You can view this from the given graph as to how January 2012 will turn out to be, and that you will need to be very careful owing to the same.
During this week, on 12th and 13th January, we can rely purely on speculation. We can also do an experiment during the week ahead, and can then wait for the results. You can view the file for details.
Today moon is in the sun sign Leo in Falguni Nakshatra (constellation).
When Sun enters the sun sign Capricorn, the event is called Makar Sankranti This year, on the day of 14-01-2012 at 00.59, Sun shall enter Niryan Capricorn. That's why Sankranti is on 15-01-2012 this year.
Sankranti's donations : On the auspicious occasion of Sankranti, donate new utensils, cattle, cattle fodder, cereals and grains, sesame seeds, jaggery, gold, land, clothes and horses – whatever is possible as per your economic status.
What to do on Sankranti – On the auspicious occasion of Sankranti, bathe in water which has sesame seeds mixed in it. You can also apply a paste made out of sesame seeds to get a better result. Organise a Yagna on this day, if possible and offer Sesame seeds to the holy fire. You may also drink water mixed with sesame seeds and consume sesame seeds in some form. If you can use sesame seeds in any of these six way, and donate them as per your ability, then all your problems may start fading off. On this holy occsions you can also offer your respects to your elders, parents and ancestors. Don't forget to worship Lord Shiva in a proper manner, and offer milk to God Sun.
The market may remain in a confused state today, owing to the change of Sankranti (movement pattern) of Sun. Sun's impact on Earth shall not be very considerable today, as it is changing its position, and that is why the confusion. You may be receiving varied tips, and weird buying-selling calls and SMSs and indications via media. However, Ganesha advises you to trade as per your comfort and understanding.
Today too you will need to be ready to play a risky game at Nifty, urges Ganesha.
For detailed personalised prediction email us on stockmarket@ganeshaspeaks.com or call us on +91-9909941816
Gujarati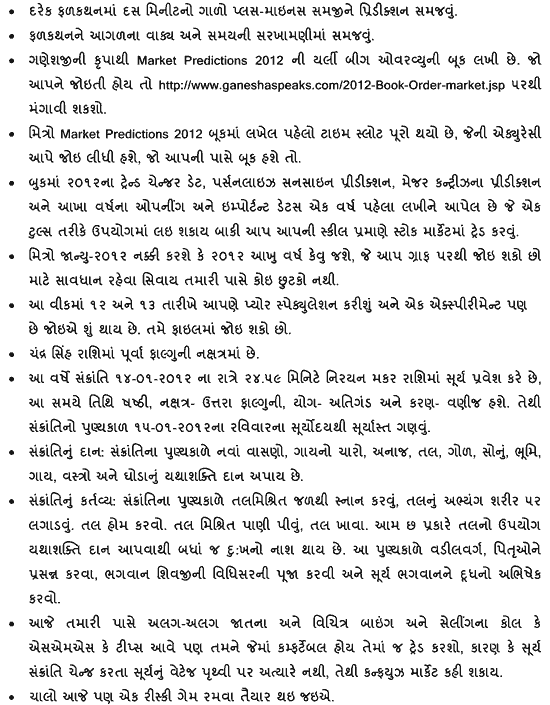 Hindi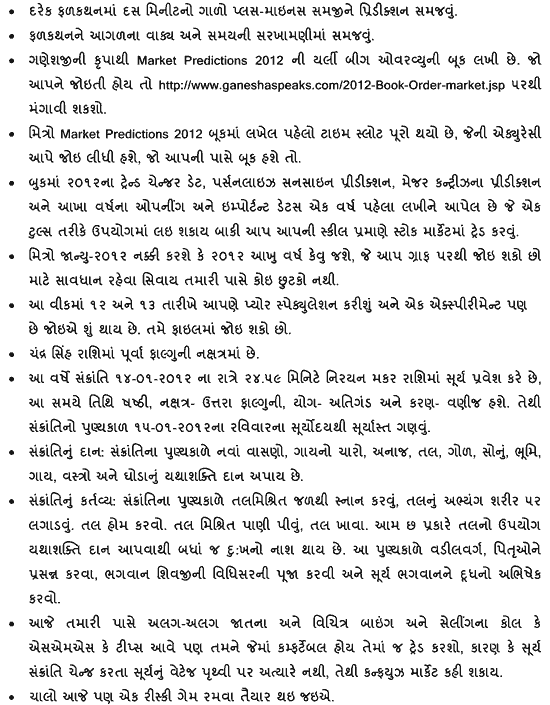 For further details, please contact customer care.
Telephone: 079 65221416
Mobile: +91 – 9909941816
Email: stockmarket@ganeshaspeaks.com