Consider 10 minutes plus and minus in each prediction, and act accordingly.
Ganesha advises you to compare every prediction with the prediction of the previous time slot.
Ganesha foresees an undesirable, unfortunate event taking place around 16th December, 2011 in Asia. According to Ganesha, December 16th thus is going to be an unpredictable day.
The daily weightage for the next week looks set to be marginal. Moreover, during this week too, the weightage for one particular day is zero. Therefore, the best option for the next week is jobbing. Ganesha advises you to avoid taking any new position during the week. Keep booking profit and loss on a daily basis.
If you look at the monthly graph for this week, you will be able to see that it is sloping downwards. Therefore, you need to calculate your moves very carefully. However, this shouldn't make you take any buy put options in the spur of the moment.
There is a possibility of basket selling during the last 33 minutes on the 15th and 16th, but it is difficult to predict the exact figure for it. Thus, you should trade considering the strength of the stop loss.
The pre-open market for the entire week ahead is going to be crucial. Therefore, be careful and take your decisions after 37 minutes from opening. This applies to all the days in the coming week.
Friends, you are advised to give special consideration to the predictions for the 15th and 16th December, while going through the graph sent to you via the e-mail.
Ganesha foresees that Nifty may frequently lose its rhythm during the day ahead.
Today, at every fifteen minutes the trend may change. Be prepared for it.
Compared to the opening pattern of yesterday, Nifty will have a totally reverse pattern today. Meaning, it will open on the down-side, go on the up-side and then may immediately come down again, foresees Ganesha.
Ganesha is confused regarding the possible trends in the market during 9:15 to 9:37. He foresees that Nifty may go up twice, and may also come down twice during this time.
From 9:37 to 11:05, the market will continue to hold its strength.
From 11:05 to 11:27, there are chances that Nifty may go down.
From 11:27 to 12:45, Nifty is likely to remain soft.
For detailed personalised prediction email us on stockmarket@ganeshaspeaks.com or call us on +91-9909941816

Gujarati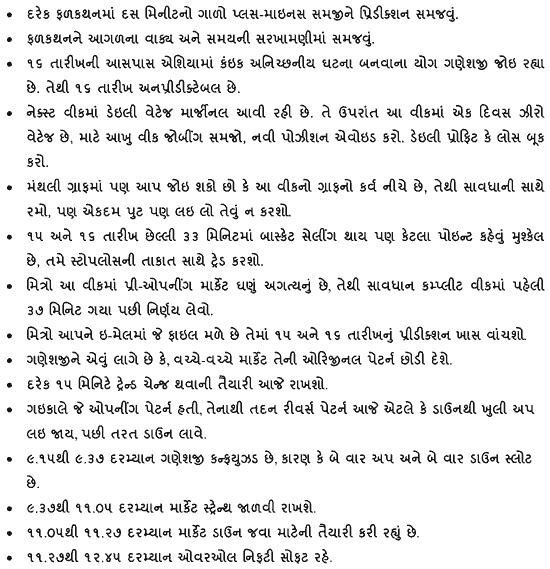 Hindi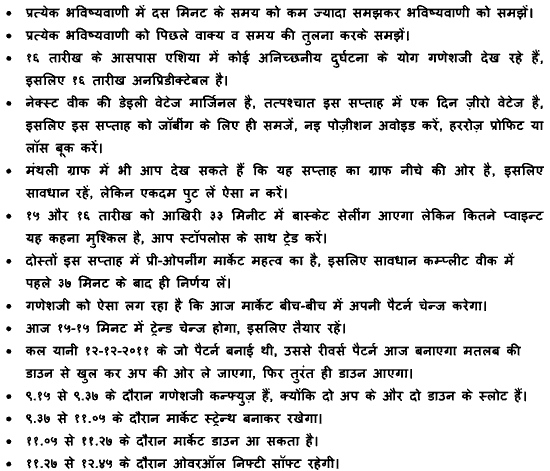 For further details, please contact customer care.
Telephone: 079 65221416
Mobile: +91 – 9909941816
Email: stockmarket@ganeshaspeaks.com