Consider 10 minutes plus and minus in each prediction, and act accordingly.

Ganesha advises you to compare the next prediction with the prediction of the previous time slot.

The
predictions that you see every day on the website are written one
week in advance. Ganesha advises you to take benefits from them.

The
dates of high-volatility and wide fluctuation in January-2011
are: 3 (23.10), 4 (Solar Eclipse) (-11.25), 5 (-66.55), 7 (-143.65),
12, 12, 18, 24, 27, 31

You
may go through the predictions with the yearly graph and the
starting lines of last week predictions to ascertain the accuracy of
the astrologer.

Today
Moon is in the Uttara bhadrapada nakshatra of the Rashi Meen.

The
pre-open market will be up but it will slide down suddenly from
where ever it opens. This may happen at around 9.55 hence Ganesha
advises caution.

14.30
to 15.30: This is a time slot of 2 up jumps and 2 down slides.
For detailed personalised prediction email us on stockmarket@ganeshaspeaks.com or call us on +91-9909941816
Gujarati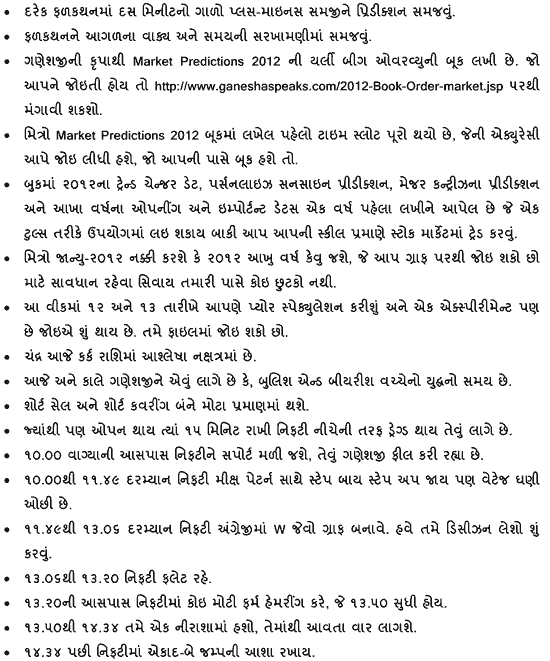 Hindi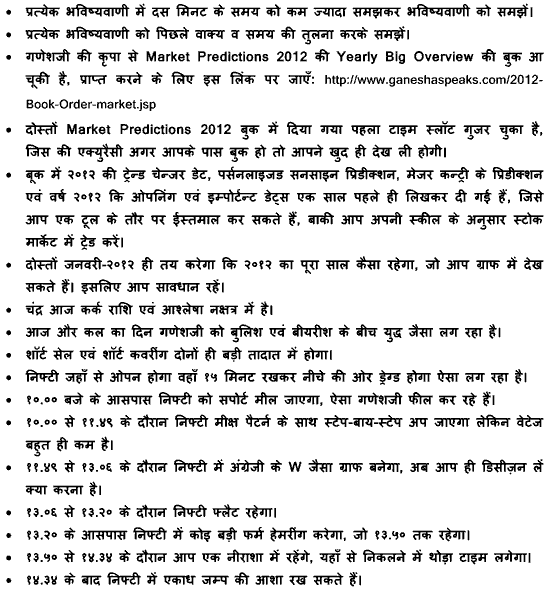 For further details, please contact customer care.
Telephone: 079 65221416
Mobile: +91 – 9909941816
Email: stockmarket@ganeshaspeaks.com