This week you may be faced with a dilemma – 'What to do next?'
There's a heavy/ strong reaction in the market, which may be the result of triggering of margin-calls by a lot of people and may be a slightly negative news. This news is likely to be the one that existed in the past too, but probably had not garnered a similar reaction at that time. You may be baffled then, as to why is it generating such reactions now?
Technical, psychological, sentimental – all these factors shall be on your mind.
Ranbaxy, R-Comm, R-Power, R-Infra, Reliance Capital – All those names beginning from 'R' had experienced a lot of pressure on Thursday.
We had earlier predicted that the opening in intra-day would be negative, thus there were some monetary gains due to intra-day's prediction. However, despite the daily weightage being positive, the market remained negative. Thus, you may be thinking, as to what can be done next?
Ganesha is warning you in advance to be cautious between 09-05-2011 and 20-05-2011. So, be careful and before doing intra-day, do not deal/ trade before checking the strength of delivery.
If you think this has been the worst period, then Ganesha would like to inform that the worst is yet to come from 26-06-2011 to 7-11-2011. This has been as per a major point of view, and may be a big cause of concern.
From opening to 11:00 am, you will come across Nifty deals, which you may not have seen earlier. This is unlikely to do with small-time traders. However, one may witness a few huge deals/ battles between some big traders.
15:00 till the closing bell, Nifty shall show a slight hope.

For detailed personalised prediction email us on stockmarket@ganeshaspeaks.com or call us on +91-9909941816

Gujarati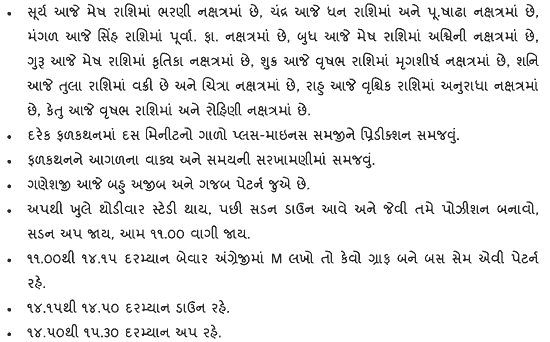 Hindi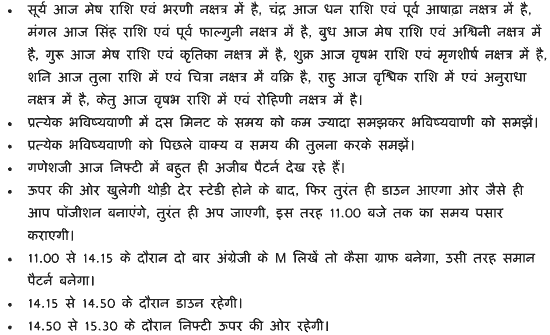 For further details, please contact customer care.
Telephone: 079 65221416
Mobile: +91 – 9909941816
Email: stockmarket@ganeshaspeaks.com