Consider 10 minutes plus and
minus in each prediction, and act accordingly.

Ganesha advises you to compare
the next prediction with the prediction of the previous time slot.

The daily prediction, which you
refer to, has been written a week in advance. So, take optimum
advantage.

Ganesha feels that this week
India VIX is expected to be around 24.

According to Ganesha, this week
try to focus only on stock specific and not on F & O. The reason
is that during the entire week, after 13:00, the market will be
highly volatile and highly fluctuating, which cannot be judged.

11.35 to 13.00, there is a high
possibility of small as well as big after shocks.

The closing figure at 15.30 is
likely to be the same as at 13.50. Nifty may make a W-shaped graph
during this time, avoid dealing.

For detailed personalised prediction email us on stockmarket@ganeshaspeaks.com or call us on +91-9909941816


Gujarati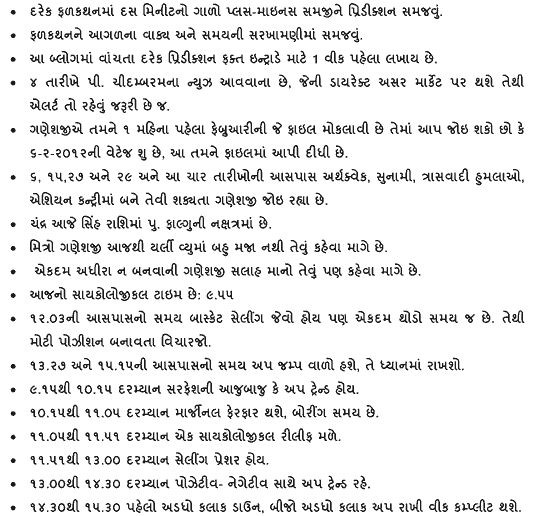 Hindi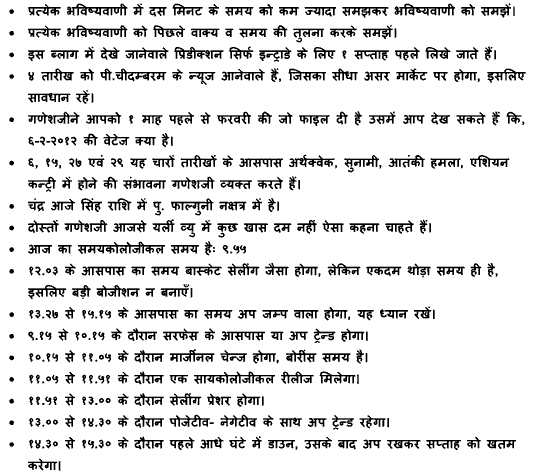 For further details, please contact customer care.
Telephone: 079 65221416
Mobile: +91 – 9909941816
Email: stockmarket@ganeshaspeaks.com