Nifty Predictions, Sensex Nifty, 2010 Market Sensex for 9th November, 2010
New Year's going start time emerged ascendant Scorpio ascendant and Moon in the horoscope – Mars – Mercury is the conjunction. Rahu in Sagittarius sign in deblited sign, in 4th house Jupiter and retrograte position, Saturn posited in House of gains, in expenses and Foreign Investors House in 12th place deblited Sun and Venus own House present.
As we mentioned in the Diwali issue, keep taking frequent entries & exits . This will help you in more gains & benefits than losses.
Today, Sagittarius Moon and the constellation Moon the first phase Lord is Ketu. Chandra Rahu is going to meet, so the market can be said direction-less, but don't worry they are – different Nwamaansh but Ganesh still recommend to be careful.
From 13:15 to 15:00, Nifty may remain soft.
From 15:00 till the last 30 minutes, there may be a little buying trend at Nifty.
Gujarati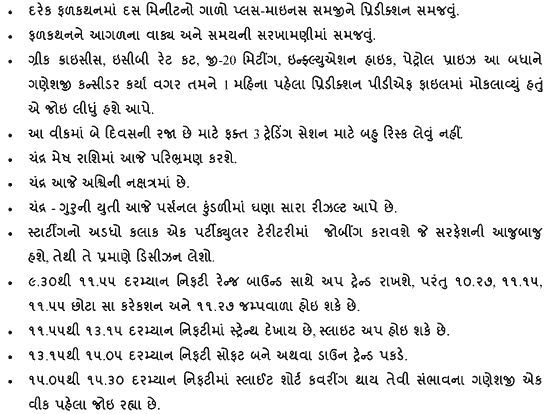 Hindi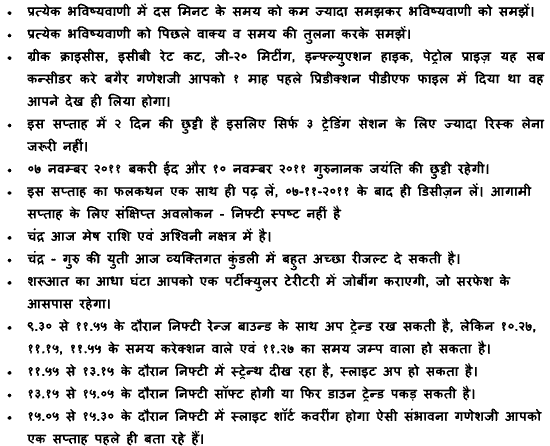 For further details, please contact customer care.
Telephone: 079 65221416
Mobile: +91 – 9909941816
Email: stockmarket@ganeshaspeaks.com