Nifty may hover around the surface till 12.45 as the weightage is zero. Overall, Nifty may show strength and jobbing is the only thing that will make you earn profits. Forget about other tips, sms and news.
From 12.45 to 13.30, Nifty will go up twice and take a dip, once.
From 13.30 to 14.40, it's a period of confusion as Nifty will change its strength frequently. Deal according to the capacity of your delivery.
From 14.40 to 15.30, Nifty may create a 'head & shoulder' kind of a pattern i.e. it may go some points on the positive side and some on the negative side of the axis.
Next week, Ganesha foresees that there is a possibility of the opening being between flat and negative.
Gujarati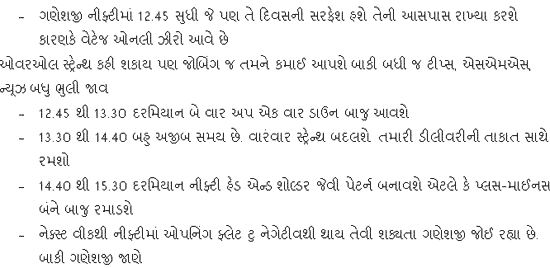 Hindi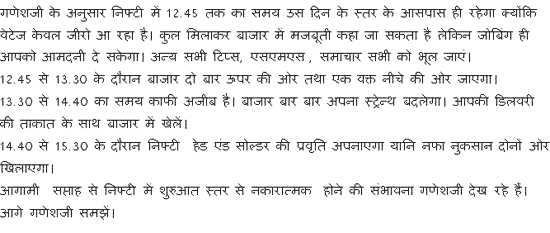 For further details, please contact customer care.
Telephone: 079 65221416
Mobile: +91 – 9909941816
Email: stockmarket@ganeshaspeaks.com